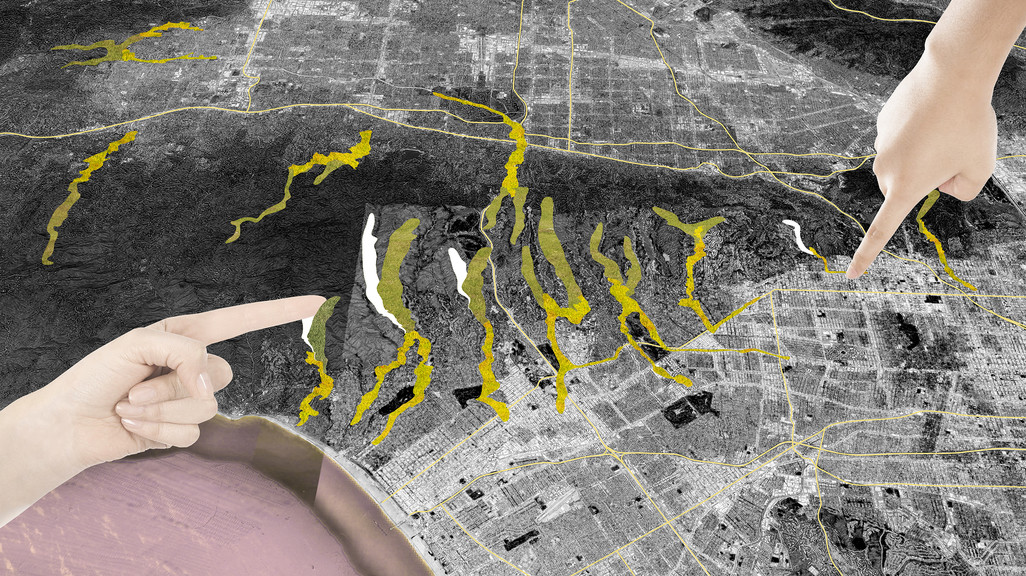 IDEAS Urban Strategy Studio
2020
This year's IDEAS Urban Strategy Studio will be exploring LA-ND – as in land ownership, land development, land planning, endangered land, land disasters, land scarcity, and land redevelopment – is the bottom-line story of Los Angeles as a city. From its settlement to its series of expansions and finally its densification, reimagining the land has been the vehicle for the city to grow.
One of the most remarkable attempts is Olmsted and Bartholomew's 1930 plan to create an emerald necklace of parks from the Pacific Ocean through Downtown LA to the Santa Monica and San Gabriel Mountains along the path of the LA River, transforming the land from a handful of disparate municipalities into a new regional geography of open spaces connected by transportation corridors. The ambitious proposal to give LA's land an urban culture before it had one resonates today as plans for the LA River have prompted discussions about knitting the region together through a series of linked landscapes and urban attractors.
Taking the Olmsted and Bartholomew plan as a source of inspiration to imagine the future of Los Angeles at a broad scale, the studio will work with partners that have a stake in LA's land, including real estate investors, urban planners, community organizations, and companies with large land holdings. Final design proposals will consider three key aspects of future LA-NDs: (1) Nature – rather than battle nature to build, we'll use it as a medium to grow the city using geography, landscape, and inclusive habitats, (2) Climate – because the land is changing we'll design infrastructure and urban areas that improve the quality of life in a world of climate risk, and (3) New building types - the rising value of land means architects will need to create new types of buildings whose urban spaces make the best use of limited area in a city reluctant to densify.
This year-long studio started with students designing radical vision plans for the future LA focused on LA-ND transformation technologies.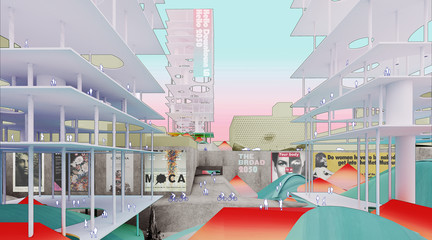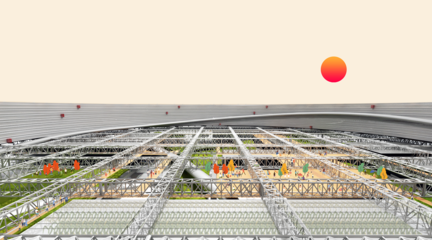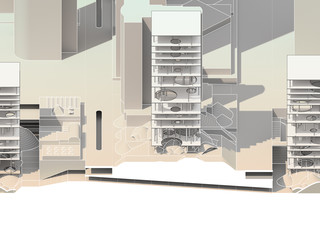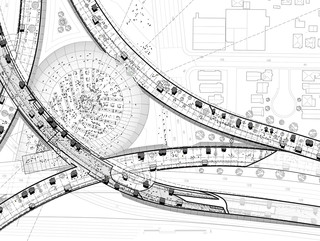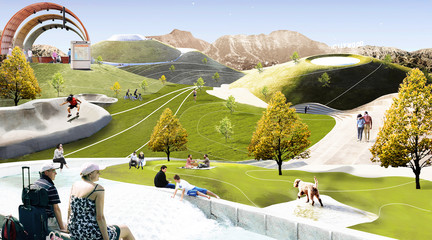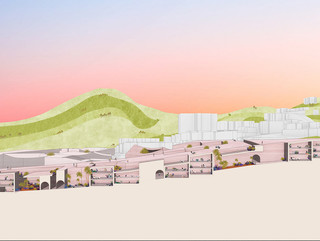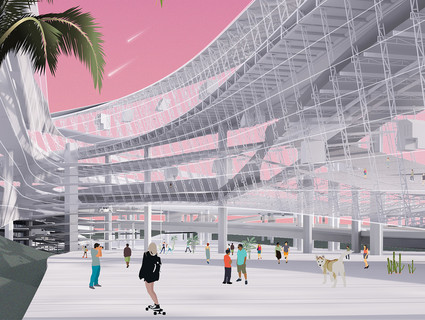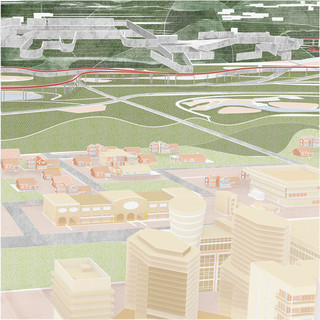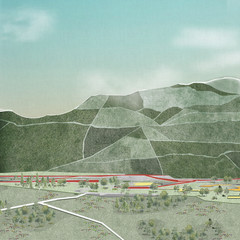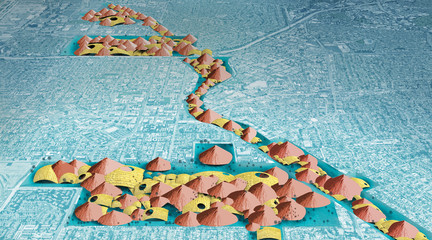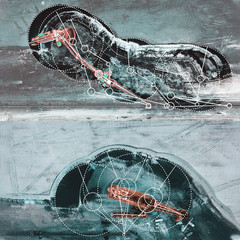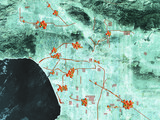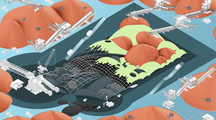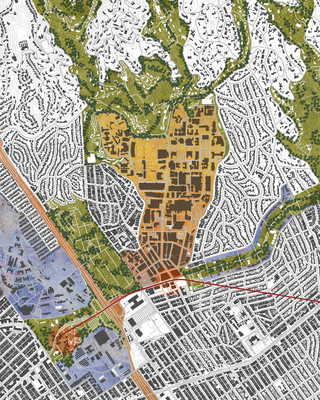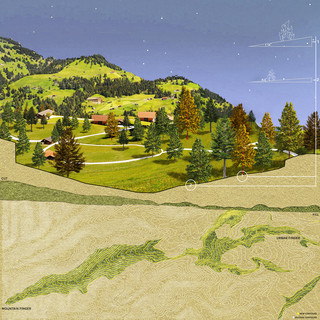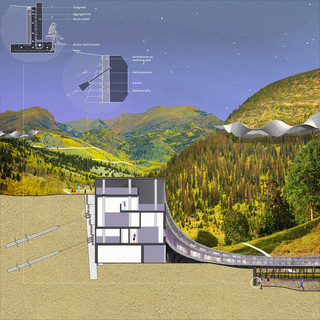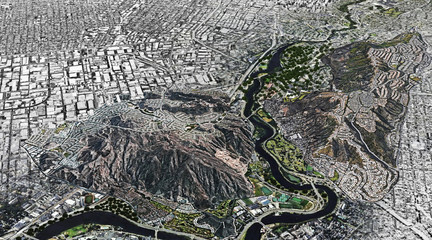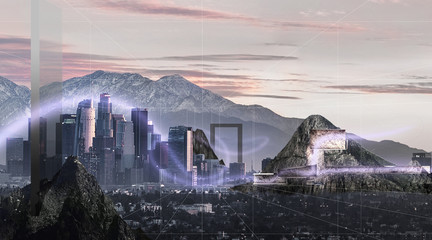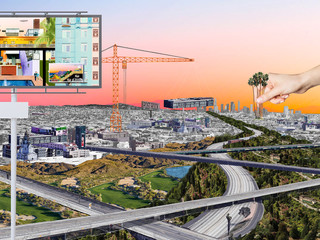 Earthpiles by Yuxuan He, Gaurav Puri, Ruchi Singhania, and Jingyi Wang

[kCal+kW] - CO2 - H2O by Dingkai Xiang, Qi Long, Tong Wang, and Sihang Zeng

Earthpiles by Yuxuan He, Gaurav Puri, Ruchi Singhania, and Jingyi Wang

Aron Carcamo, Ruoyang Chen, Lecan Li, and Yeawon Min

Xinran Ge, Chinmayi Suri, and Xue Zhao

Xinran Ge, Chinmayi Suri, and Xue Zhao

Xinran Ge, Chinmayi Suri, and Xue Zhao

The Third Mountain by Xinran Ge, Chinmayi Suri, and Xue Zhao

110 at the 105 by Aron Carcamo, Ruoyang Chen, Lecan Li, and Yeawon Min

Aron Carcamo, Ruoyang Chen, Lecan Li, and Yeawon Min

Wenhan Dong, Xiyan Wang, Linyi Zhang

Wenhan Dong, Xiyan Wang, Linyi Zhang

Wenhan Dong, Xiyan Wang, Linyi Zhang

Yuxuan He, Ruchi Singhania, and Xiyan Wang

Yuxuan He, Ruchi Singhania, and Xiyan Wang

Yuxuan He, Ruchi Singhania, and Xiyan Wang

Yuxuan He, Ruchi Singhania, and Xiyan Wang

Xinran Ge, Chinmayi Suri, and Xue Zhao

Xinran Ge, Chinmayi Suri, and Xue Zhao

Xinran Ge, Chinmayi Suri, and Xue Zhao

Sihang Zeng and Jingyi Wang

Dingkai Xiang and Qi Long

Yuki Zhao and Xinran Ge