At the heart of student life at UCLA Architecture and Urban Design is our studio culture.
Our studio-based curriculum fosters collaborative and supportive relationships between students and faculty and models how to be respectful of differences of opinion and how to work collectively on a set of concerns. In this context, students are exposed to people with distinctive forms of expertise, collaborating in an interdisciplinary way around a problem. Peer-to-peer learning strengthens ideas and skills through debate and engagement. In addition to creating a stimulating environment for our students, this also prepares them for the kinds of relationships in which professional practice happens.
Equally important to student life is our ecosystem of different academic programs. There is no hierarchy; undergrads engage in many of the same activities as graduate students which creates robust exchange between design-oriented and scholarly academic programs. Furthermore, while many of our students have studied architecture, many others come from other fields and backgrounds. This creates a particularly enriching graduate experience because issues from other fields of study are part of the conversation and influence our work.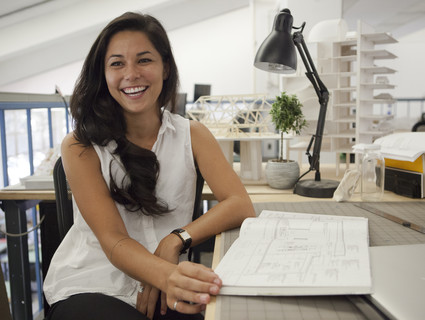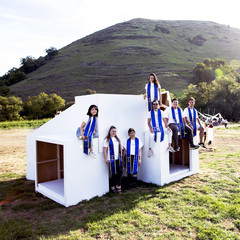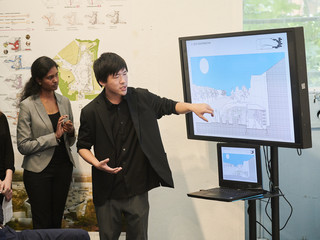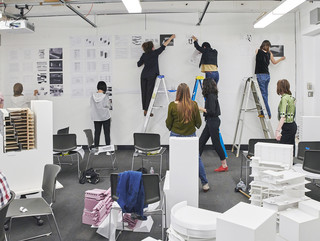 Student in the graduate studios at Perloff Hall

Cal Poly Design Village

Students presenting a final project

Students preparing for reviews
Public Programs
An architectural education is inherently a curated view of the field constructed by the faculty and peers of an institution. Engaging and active public programming further connects us to contemporary concerns in architecture. By convening individuals with a diverse set of perspectives who are doing compelling things we increase students' exposure to positions one might take in the field.
Each year, lectures and workshops bring prominent architects, designers, theorists, and historians to UCLA Architecture and Urban Design to share their work. The IDEAS campus also hosts a series of symposia or summits to publicize and share work from post-professional program. Exhibitions both in the Perloff Gallery and at the IDEAS campus feature innovative student and faculty work, as well as the work of local and national architects, artists and designers.
RUMBLE Exhibition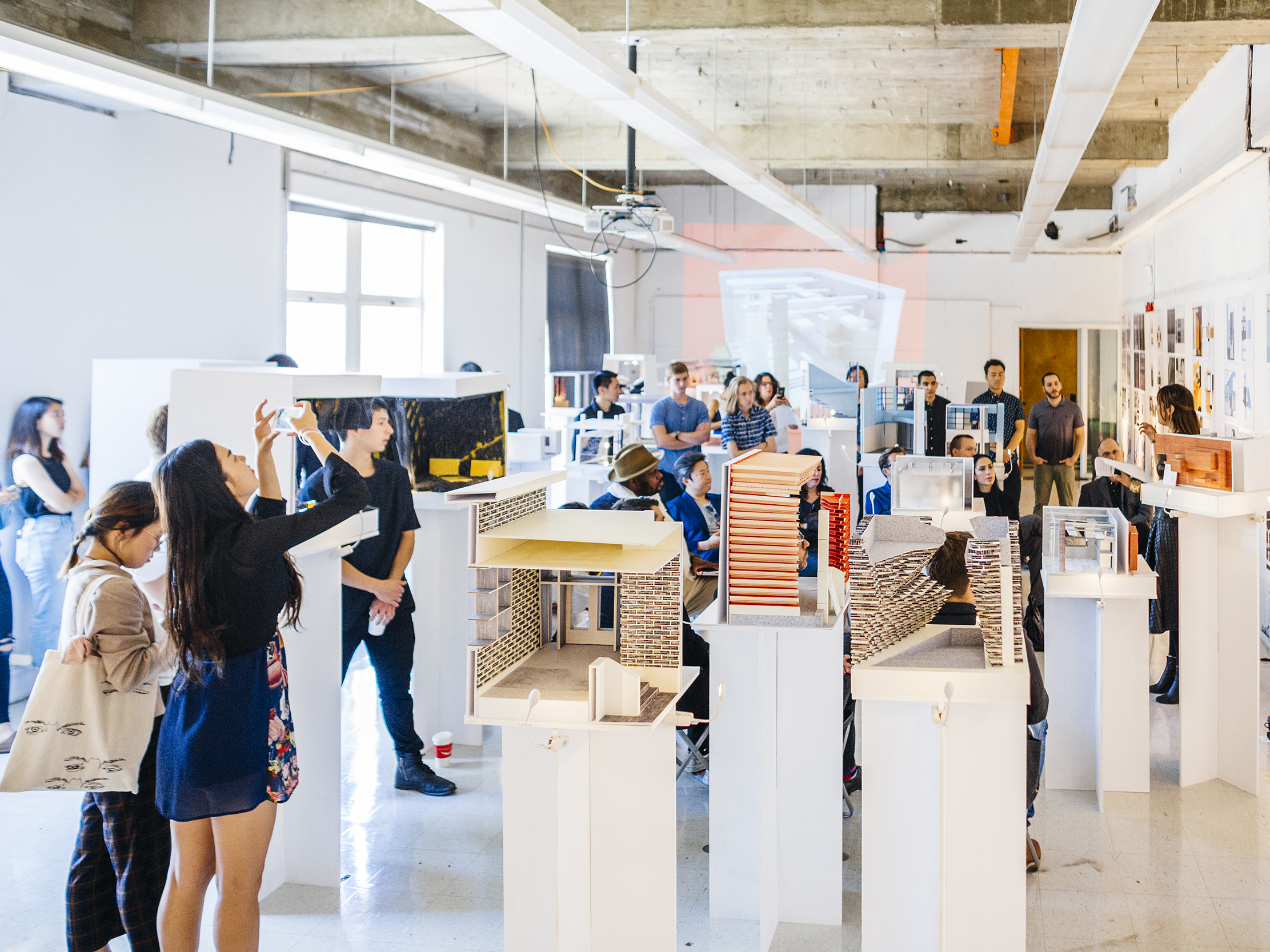 RUMBLE is our year-end exhibition that showcases and celebrates the efforts of our students and faculty over the course of the academic year. Perloff Hall and the IDEAS campus are transformed into public exhibition spaces, with large-scale installations, models and interactive demonstrations. It is an opportunity to engage the broader architecture and urban design communities in conversation about the future of the built environment as forecasted and imagined by UCLA Architecture and Urban Design.
POOL Student Journal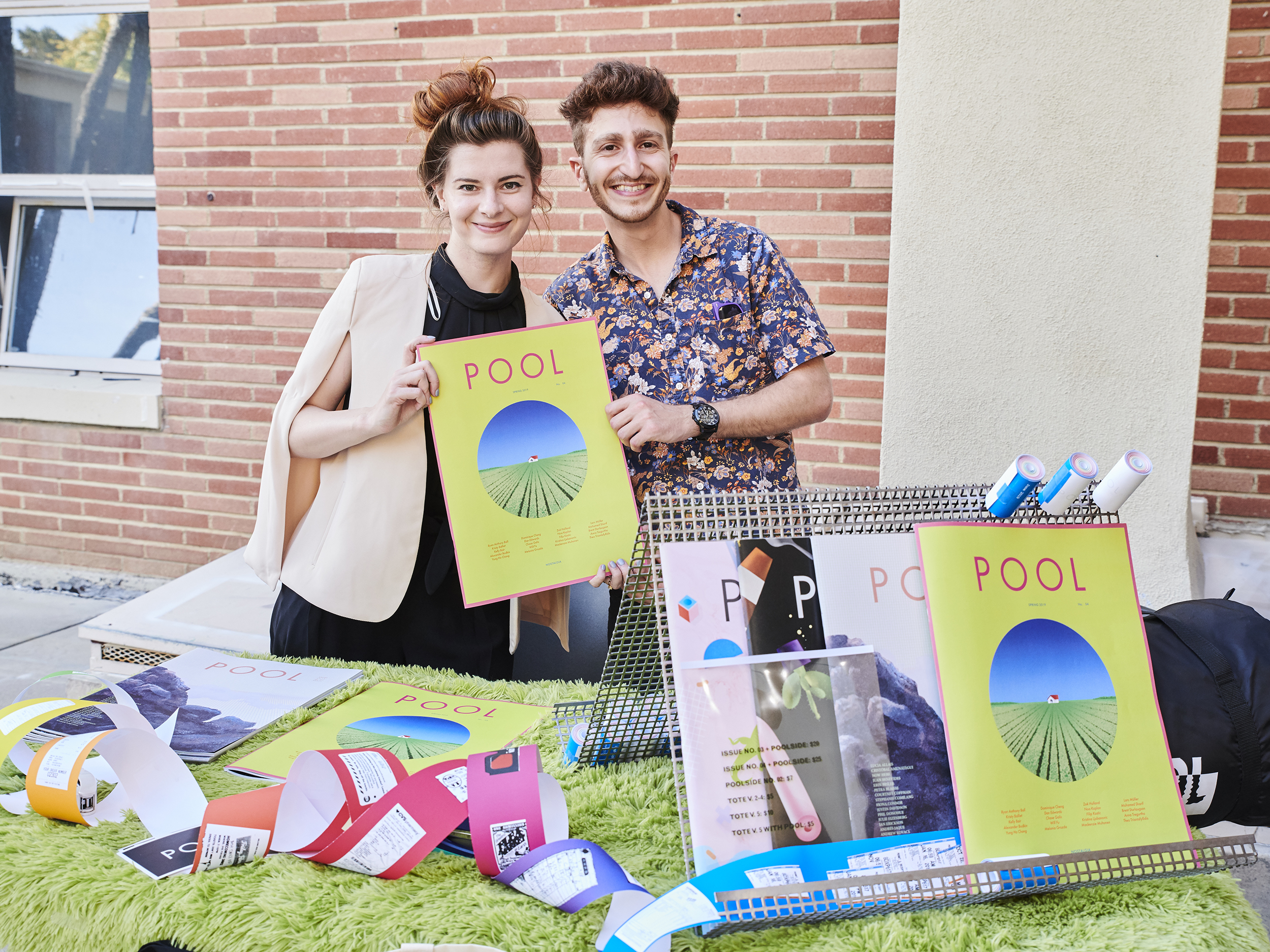 Our community's intellectual engagement with the field of architecture is evident is the capacity of students to both contribute to longer-term research projects with faculty as well as contribute their own insights and discursive positions through our student journal, POOL. POOL provides students with the chance to curate a particular debate through the format of a journal and engage one another in discussions and writing around their contemporary concerns.
Travel Studios
Living and working in the sprawling metropolis of Los Angeles is itself an immersion into the urban culture of a modern city. The city is dealing with issues of growth, mobility, density, and sustainability, and serves as a laboratory for our research. Graduate students may elect to take travel studios travelling with faculty to experience first-hand other cultures and approaches to the built environment. Past experiences have ranged from investigating co-working spaces in Tokyo and analyzing hillside building sites in Mexico City to exploring rural manufacturing sites in the French countryside.
Student Representatives
Students play an important role in the governance of UCLA Architecture and Urban Design. Each Fall, student representatives are nominated, and then voted upon by their classmates. These students (two representatives from each class/program) are encouraged to observe and participate in the discussion at quarterly meetings with faculty. The student representatives are then responsible for reporting back to and soliciting input and feedback from their classmates.
Cross-Disciplinary Opportunities
Students can also participate in interdisciplinary collaborations with other departments at UCLA. Past opportunities have included the design of affordable housing hosted by the UCLA Anderson School of Management, design competitions with the UCLA School of Engineering or urban planning proposals with the UCLA Luskin School of Public Affairs. In addition to student-led competitions, our faculty are engaged in interdisciplinary collaborations such as the Urban Humanities Institute led by Dana Cuff.