Our summer programs offer students a glimpse into life at one of the leading public universities in the world, and the opportunity to earn college credit.
Structured around the experience of a design studio typically offered within the curriculum of a college-level architecture program, students focus on developing and advancing their design skills through space, form-making, and related 2-D and 3-D representation techniques.
Led by AUD Summer Programs Director Julia Koerner, both the JumpStart program and TeenArch Studio engage students in a wide range of activities, from intensive design exercises, individual feedback sessions, and small group discussions, to studio-wide presentations, and reviews. Students will be introduced to the conceptual and technical facilities essential to the study of architecture as a discipline and its practice as a profession. To supplement studio activities, weekly lectures from UCLA faculty and notable guest designers will explore the many facets of idea-driven design, as well as urban and design culture in Los Angeles.
Both programs culminate in final presentations of work to guest critics, offering students a chance to apply their skills and gain experience and poise with giving professional presentations. Students leave the programs with new design languages and insights, as well as a design portfolio they can use to apply to future design programs.
For Summer 2023, JumpStart will be offered in person, and TeenArch will be offered in both in-person and remote formats, with specific details below.
We are also happy to note the return of the Summer Lecture Series; the 2022 Summer Lecture Series offered an array of design voices and perspectives for both Summer Program participants and interested members of the general public.
"Through an intensive course offering studios that emphasized continuous iteration from precedent; sessions surveying sound theory and historical context; seminars that provided tools for communicating vision; and a genuinely inspiring guest lecture series, I was able to discover, articulate, and begin to refine a design language. Simply, the program was a valuable and memorable experience—would repeat!" (John Grimes, 2021 JumpStart participant)
Julia Koerner presents an overview of AUD's Summer Programs and their glimpse into the world of architecture
JumpStart
Summer 2023: July 5 – July 28
JumpStart is a 3.5-week summer studio for individuals contemplating careers in architecture, design, and related fields. The program is open to students from all backgrounds and carries six quarters of University of California credit. To participate in JumpStart, students must hold a high school diploma (or equivalent).
This year's program will be delivered in person. Students will be assigned to an instructor for a studio on campus, and will attend Technical Seminars, Theory Seminars, as well as group-work sessions in person.
Software and fabrication-tool tutorials will be provided each week as relevant to assignments within the Technical Seminars.
Over the course of the program, students will learn to:
Produce architectural representation via both orthographic and parallel projections
Build analog models using manual and digital fabrication tools
Develop digital models of existing and original designs
Learn to use 2-D and 3-D modeling and drawing software: Rhinoceros and Adobe Illustrator (individuals with prior modeling experience will be challenged to expand and advance their skill set through technical workshops)
Communicate architectural ideas effectively across formats
Nourish those ideas with broader cultural thematics
The JumpStart schedule allows for concurrent enrollment in ARCH&UD 10B: History of Architecture and Urban Design-Baroque to Contemporary Moments (5 units).
Studio, workshops, and seminars are offered between 10:00 am and 6:00 pm PST on Mondays and between 2:00 pm and 6:00 pm PST on Tuesdays through Fridays. Lunchtime usually takes place at 1:00 -2:00 pm in Perloff Hall Decafe. There will be a Field Trip in Los Angeles on Saturday, July 8.
Lunchtime lectures, workshops, and seminars are offered between 10:00 am and 6:00 pm PST. Lunchtime lectures will be recorded and offered asynchronously for those in different time zones.
"As a complete beginner in the field of architecture, I absolutely loved my experience with JumpStart. While all aspects of the program were fantastic, I particularly loved how personal it was, with significant amounts of time dedicated to simply talking to experts and peers. The amount of passion for architecture was contagious, and I think my attitude towards the subject has been incredibly enhanced by the enthusiasm of the program's amazing staff." (Ben Apsley, 2021)
"This program was incredibly inviting and welcoming of all types of students. I had tons of fun and learned so much in the short amount of time we spent with our instructors and TAs. Most importantly, I made great connections!" (Jasmin Logrono, 2021)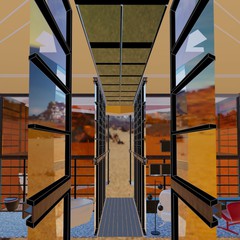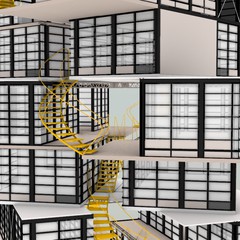 JumpStart 2021 work by Jassimran Nagra

JumpStart 2021 work by Jasmin Logrono

JumpStart 2021 work by Cameron Jones

JumpStart 2021 work by Eli Henriksen
STUDIO TOPIC: MONSANTO HOUSE OF THE FUTURE
"Modern life demands, and is waiting for, a new kind of plan, both for the house and the city." – Le Corbusier
The Monsanto House of the Future, built in 1957 in Anaheim, California, is an ultra-modern, 20th-century prefabricated house. Over the ten years in which it was on display at Disneyland's Tomorrowland, more than 20 million visitors toured the house to explore and experience what was billed as the future of housing, a study on how plastic might be used to mass-produce housing at lower costs—"plastic, fantastic living." Students' welcome kits include a pre-lasercut model of the Monsanto House.
Students will explore and materialize formations and constituents of architectural thresholds and kit of parts in three phases, framed by analysis of the Monsanto House of the Future. Students will then multiply and situate those components within simple geometric arrays as a vehicle for further speculations on architectural space, form, order, and the inter-relationships among objects and fields. Concurrently, students will transform a zone within that array and rethink construction logics through idea-driven model-making.
In 2021, JumpStart participants studied the Eames House, another such forward-thinking, experimental approach to the design of dwelling. Built in 1949 in the Pacific Palisades, the Eames House is considered one of the most important post-war residences in the United States. (It is also entitled Case Study House No. 8.) Designed and constructed by Charles and Ray Eames, the house was built fast and economically, erected in two days using materials ordered from catalogues. Inspired by such an experimental approach, students worked to unfold new spatial and formal arrangements comprising reimagined parts that simulate creatively framed passages and transitions within the dwelling landscapes of today.
Syllabus, schedule, fees, and registration info are available at summer.ucla.edu/institutes/JumpStart.
Questions? Email us at summer@aud.ucla.edu.
TeenArch Studio
Summer 2023: July 10 – July 28
TeenArch Studio is a three-week architecture experience for high school students interested in exploring architectural and design thinking. The program carries three quarter units of University of California credit. TeenArch Studio is open to students who are 14 years of age or older by the first day of Summer Sessions 2023 (July 10, 2023), and enrolled in grades 9 through 12 during Spring 2023. This year's program will be delivered both in-person and online in a remote learning format.
Students who elect to complete the program in-person will be assigned to an instructor for a studio on campus, and will attend Technical Seminars as well as group-work sessions in-person.
Students who elect to complete the program online will be assigned to a remote instructor and online studio space, and will attend Technical Seminars, Theory Seminars, as well as group-work sessions in-person.
2021 TeenArch student testimonials
What I enjoyed the most from TeenArch was getting feedback on my projects in the same manner that a professional architect would. It felt as though I was immersed in an architectural environment more than I have ever.
I loved learning about the design process and initially beginning with an abstract idea and turning it into a pavilion. I also enjoyed hearing about the various possibilities of what it can mean to be an architect from the different lunchtime speakers.
I was able to experience a snippet of what a future in architecture would be like and it really solidified my choice in pursuing architecture into the future.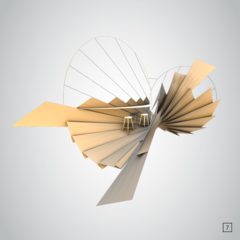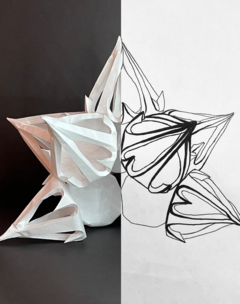 TeenArch 2021 work by Sophie Longval

TeenArch 2021 work by Peyton Yamanaka

TeenArch 2021 work by Daniel Dumontet

TeenArch 2021 work by Yuna Tachi

TeenArch 2021 work by Thea Dahl
STUDIO TOPIC: FOLD TO FORM
It has been said that there is nothing more terrifying for a designer than a blank piece of paper – because it is the embodiment of limitless possibilities. From point to line to plane to volume - architecture takes shape - and it begins with a single sheet of paper. A single point could become a line in infinitely many directions, branching then again in infinitely more directions.
But every design has a throughline – a way to describe from beginning to end the process taken to arrive at the final product.
In this summer's TeenArch Studio, students will begin by studying techniques with paper folding. They will understand how form and volume take shape through a series of deliberate operations. Through diagrammatic drawing, physical model-making, and 3D modeling, they will learn how to generate codified systems in order to abstract inspiration and figuration from a seemingly abstract form to create order in the form of a simple enclosure.
Students will develop a pavilion dedicated to the courtyard plaza in front of AUD's Perloff Hall. They will use their origami models and architectural drawings to inform their design, taking into consideration feedback they have received over the course of the studio.
Syllabus, schedule, fees and registration info at summer.ucla.edu/institutes/TeenArchStudio.
Questions? Email us at summer@aud.ucla.edu.