MArch Professional Degree
The MArch is a three-year, NAAB-accredited program that leads to a Master of Architecture degree.
The MArch curriculum prepares students for the practice of architecture by providing a focused framing of today's cultural, ecological, political, and technological questions with a view to what architects may bring to bear on such complex issues. At each stage of the curriculum, students become equipped to not only lead the professional field but also to construct new opportunities for it by positioning their design skills within a rapidly changing world.
New for the Fall 2024 application cycle: The GRE exam is no longer a requirement
Applications for the MArch program (Fall 2024 matriculation) are completed via the UCLA Application for Graduate Admission, and are due January 6, 2024. Candidates will be notified of decisions in March 2024; admitted candidates who wish to accept the offer of matriculation must submit their Statement of Intent to Register (SIR) by April 15, 2024.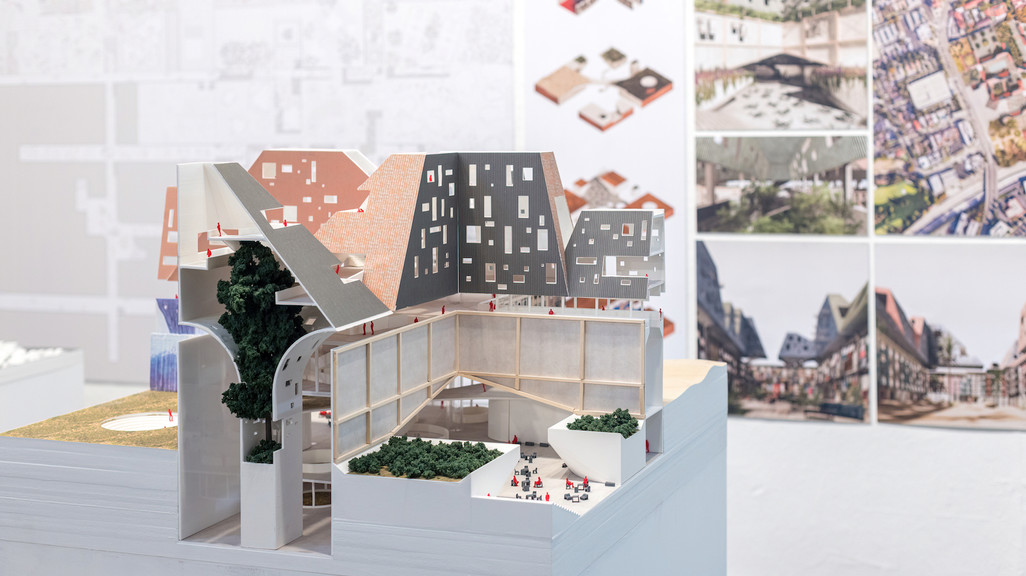 The three-year sequence is divided into two periods of study.
The first of these periods is a two-year foundation, known as "Core," in which students complete six design studios that offer design exercises of increasing scale and complexity. Simultaneously, they take courses in the History and Theory of Architecture; Architectural Programming; Computation; Environmental Design; Representation and Visualization; Structures; as well as a range of complementary cultural and technical elective courses. This Core period provides students with the foundation and knowledge necessary to clearly articulate strong architectural concepts, and formal and organizational principles informed by factors such as context, materials, and building systems.
The second period of study is the culminating third year, in which students choose from an array of one-year thematically-focused Research Studios, as well as two supplemental Advanced Topic Studios (to be completed in the first two quarters), and a number of elective courses. Research Studios are led by senior design faculty and are structured around specific contemporary concerns. The three-quarter Research Studio comprises a first quarter of research, a second quarter of hypothesis definition and development, and a final quarter of design resolution. This structure provides students with opportunities to develop and expand particular positions in architecture by rethinking existing problems, establishing new directions, and making well-informed and progressive conjectures that shape the built environment.
A collaborative spirit threads the program, fostering an environment in which students and faculty develop a collective intelligence composed of multiple, yet focused, points of view. Through this shared set of interests, students develop methods and techniques for producing new forms of architectural intelligence, plausible speculations, and capacities to invigorate the field and attract new audiences.
UCLA Architecture and Urban Design's long-standing dedication to communicating clear and articulate architectural ideas fosters critical thinkers who become leaders in practice, academia, and on the global stage
As a graduate program in a world-renowned research university, the MArch at UCLA AUD builds on the broad knowledge base of the entering student body, integrating these diverse worldviews into a practice-oriented pedagogy that is both open to broad cultural questions and a pragmatic view of architecture today. Core studios encourage those with previous architectural training to question assumptions formed prior to their arrival. At the same time, knowledge of other disciplines, brought by those new to architecture, is reframed to play an important role throughout the program. This combination of student backgrounds has proven fruitful over the 55-year history of training architects at UCLA and has produced architects who are aware of the influence that other fields of knowledge have on architectural thought and production.
The MArch program is eligible for the STEM OPT Extension for F-1 visa holders. Optional Practical Training (OPT) is a federally regulated program managed by the U.S. Department of Homeland Security (DHS) and is subject to current U.S. federal rules and guidelines. Please visit DHS guidance for the most up-to-date information regarding this policy.
Typical Study Program
Below is an outline of what an MArch candidate's curriculum may look like. Current AUD students should consult Student Affairs Officers for any questions or considerations specific to their individual study plans.
| FALL | | |
| --- | --- | --- |
| 411 | Introductory Design Studio | (6) |
| 221 | Architectural Mediation I | (2) |
| 201 | Theories of Architecture | (4) |
| 431 | Structures I | (4) |
| WINTER | | |
| --- | --- | --- |
| 412 | Building Design Studio | (6) |
| 222 | Architectural Mediation II | (2) |
| 432 | Structures II | (4) |
| 436 | Introduction to Building Construction | (2) |
| SPRING | | |
| --- | --- | --- |
| 401 | Tech Core Studio | (6) |
| 223 | Architectural Mediation III | (2) |
| 433 | Structures III | (4) |
| 442 | Building Climatology | (4) |
| FALL | | |
| --- | --- | --- |
| 413 | Building Design with Landscape Studio | (6) |
| 291 | Theory of Architectural Programming | (4) |
| 461 | Professional Practice | (4) |
| WINTER | | |
| --- | --- | --- |
| 414 | Major Building Design | (6) |
| 441 | Environmental Controls | (4) |
| 000 | Elective | (4) |
| SPRING | | |
| --- | --- | --- |
| 415 | Comprehensive Studio | (6) |
| 437 | Building Construction | (4) |
| 000 | Elective | (4) |
| FALL | | |
| --- | --- | --- |
| 401 | Advanced Topics Studio | (6) |
| 000 | Elective | (4) |
| 000 | Elective | (4) |
| 403A | Research Studio | (2) |
| WINTER | | |
| --- | --- | --- |
| 401 | Advanced Topics Studio | (6) |
| 000 | Elective | (4) |
| 403B | Research Studio | (2) |
| SPRING | | |
| --- | --- | --- |
| 000 | Elective | (4) |
| 000 | Elective | (4) |
| 403C | Research Studio | (6) |
Concurrent Program
The four-year MArch/MURP concurrent degree program aims at integrating the knowledge and skills provided by UCLA Architecture and Urban Design and the Department of Urban Planning at UCLA Luskin School of Public Affairs. It is intended to serve the growing need in both the public and private sectors for architects who are competent in dealing with social, economic, and environmental policy issues, and for urban planners who can integrate architecture and urban design into policy and planning practice.
On successfully completing all requirements, students will receive both the Master of Architecture Degree (MArch) and the Master of Urban and Regional Planning Degree (MURP).
Students interested in the concurrent degree program must apply independently to, and be accepted by, both departments based on existing admission requirements. Once admitted, students follow a four-year cycle for the concurrent program. On successfully completing the requirements of both programs, students will receive both the Master of Architecture (MArch) and the Master of Urban and Regional Planning (MURP) degrees.
Along with the basic required training in architecture, urban design, and urban planning, students will select one of the following areas of concentration for specialization: housing and community development; ecology and environmental planning issues; urban policy and design; urban transportation and built form; and theory and methods in planning and design.
In consultation with faculty advisors from both UCLA Architecture and Urban Design and the Department of Urban Planning at UCLA Luskin School of Public Affairs, concurrent degree students will select one of these fields by the end of their first year so as to provide a coherent focus for their elective coursework. Among the many courses offered in the various fields of emphasis, a student must enroll in at least six courses – at least two from Architecture and Urban Design and at least two from Urban Planning.
Admissions
The MArch program welcomes applications from students with a diverse range of academic, personal, and creative backgrounds. Although no formal training in architecture is required, first-year courses assume some familiarity with the history and culture of architecture, basic graphic skills, and fundamental concepts of mathematics and physics.
Applicants to the MArch program must hold a Bachelor's degree, or the foreign equivalent. All new students must enter in the fall quarter of their respective matriculation year. The program is full-time and does not accept part-time students.
Thank you for your interest in our program.
Applicants will be notified of admission and financial aid packages, if applicable, in March 2024. If interested, applicants must file an online Statement of Intent to Register (SIR) by April 15, 2024.
How to Apply
Applying to the MArch program is an online process via the UCLA Application for Graduate Admission (AGA).
Completing the requirements will take some time, so we strongly recommend logging in to the AGA in advance to familiarize yourself with the site and downloading the documents and forms you will need to complete your application.
You can also download this checklist to make sure you have prepared and submitted all the relevant documents to complete your application.
Your Statement of Purpose is a critical part of your application to the M.Arch. program. It is your opportunity to introduce yourself and tell us about your specific academic background, interests, achievements, and goals. Our selection committee use it to evaluate your aptitude for study, as well as consideration for merit-based financial support.
Your statement can be up to 1500 words in length. Below are some questions you might want to consider. You don't need to answer every question; just focus on the elements that are most relevant to you.
What is your purpose in applying to the MArch program? Describe your area(s) of interest, including any subfield(s) or interdisciplinary interests.
What experiences have prepared you for this program? What relevant skills have you gained from these experiences? Have your experiences led to specific or tangible outcomes that would support your potential to contribute to this field (e.g. performances, publications, presentations, awards or recognitions)?
What other information about your past experience might help the selection committee in evaluating your suitability for this program? E.g. research, employment, teaching, service, artistic or international experiences through which you have developed skills in leadership, communication, project management, teamwork, or other areas.
Why is UCLA Architecture and Urban Design the best place for you to pursue your academic goals?
What are your plans for your career after earning this degree?
Your Personal Statement is your opportunity to provide additional information to help the selection committee evaluate your aptitude for study. It will also be used to consider candidates for UCLA Graduate Division fellowships related to diversity. You can read more about the University of California Diversity Statement here.
Your statement can be up to 500 words in length. Below are some questions you might want to consider. You don't need to answer every question; just focus on the elements that are most relevant to you.
Are there educational, personal, cultural, economic, or social experiences, not described in your Statement of Purpose, that have shaped your academic journey? If so, how? Have any of these experiences provided unique perspective(s) that you would contribute to your program, field or profession?
Describe challenge(s) or barriers that you have faced in your pursuit of higher education. What motivated you to persist, and how did you overcome them? What is the evidence of your persistence, progress or success?
How have your life experiences and educational background informed your understanding of the barriers facing groups that are underrepresented in higher education?
How have you been actively engaged (e.g., through participation, employment, service, teaching or other activities) in programs or activities focused on increasing participation by groups that have been historically underrepresented in higher education?
How do you intend to engage in scholarly discourse, research, teaching, creative efforts, and/or community engagement during your graduate program that have the potential to advance diversity and equal opportunity in higher education?
How do you see yourself contributing to diversity in your profession after you complete your MArch at UCLA Architecture and Urban Design?
A Curriculum Vitae (résumé of your academic and professional experience) is recommended but not required.
Applicants must upload a scanned copy of the official transcripts from each college or university you have attended both in the U.S. and abroad. If you are accepted into the program you will be required to submit hard copies. These can either be sent directly from each institution or hand-delivered as long as they remain in the official, signed, sealed envelopes from your college or university. As a general rule, UCLA Graduate Division sets a minimum required overall grade-point average of 3.0 (B), or the foreign equivalent.
As of this Fall 2023 cycle, the GRE is NOT required as part of your application to UCLA AUD. No preference will be given to those who choose to submit GRE scores as part of their application.
However, if you do take the GRE exam and wish to include it as part of your application: More information on this standardized exam can be found at www.ets.org/gre. In addition to uploading your GRE scores, please direct ETS to send us your official score sheets. Our ETS codes for the GRE are below:
UCLA Architecture and Urban Design
Institution Code: 4837
Department Code: 4401
We recommend you take the exam at least three weeks before the application deadline as it usually takes 2-3 weeks for ETS to send us the test scores.
If you have received a Bachelor's degree in a country where the official language of instruction and primary spoken language of daily life is not English, you must submit either a Test of English as a Foreign Language (TOEFL) or an International English Language Testing System (IELTS). Exempt countries include Australia, Barbados, Canada, Ireland, Jamaica, New Zealand and the United Kingdom. This is a requirement that is regardless of your visa or citizenship status in the United States.
To be considered for admission to the M.Arch. program, international students must score at least a 92 on the TOEFL or a 7 on the IELTS exam. Because processing, sending, and receiving TOEFL and IELTS scores can take several weeks, international students must schedule their exam no later than October 31 in order to meet UCLA deadlines. TOEFL scores must be sent to us directly and uploaded as part of the online submission. Our ETS codes for the TOEFL are below:
UCLA Architecture and Urban Design
Institution Code: 4837
Department Code: 12
If you need assistance submitting your IELTS score, please contact IELTS directly.
If your score is less than 100 on the TOEFL or 7.5 on the IELTS, you are also required to take the English as a Second Language Placement Examination (ESLPE) on arrival at UCLA. The results of this test will determine any English as a Second Language (ESL) courses you need to take in your first term of residence. These courses cannot be applied towards your minimum course requirements. As such, you should expect to have a higher course load than students not required to take ESL courses.
If you have earned a degree or completed two years of full-time college-level coursework in the following countries, your TOEFL / IELTS and ESLPE requirements will be waived: U.S., U.K., Canada (other than Quebec), Australia, and New Zealand. Please provide official transcripts to demonstrate course completion. Unfortunately, we cannot accept any other documentation to demonstrate language proficiency.
Three (3) letters of recommendation are required. These letters should be from individuals who are familiar with your academic and professional experiences and can evaluate your capacity to successfully undertake graduate studies at UCLA. If you do not have an architecture background please note that we are looking for letters that evaluate your potential as a graduate student, not necessarily your architecture experience.
Letters of recommendation must be sent electronically directly to UCLA by the recommender. When logged in, you can enter the name and email address of each of your recommenders. They will be contacted by email with a request to submit a letter on your behalf. You can track which letters have and have not been received. You can also send reminders to your recommenders to send their letters.
Your digital portfolio of original creative work is a central part of your application. Please upload your portfolio in the "Architecture" section of the online portal.
Your portfolio should be 8 1/2" x 11", and saved as a single PDF file no greater than 15 MB. We suggest designing your portfolio as single sheets, with your name clearly stated on the cover page. Image sizes should be at least 150 dpi and no more than 300 dpi for print.
Content is not restricted to any particular subject area, the material should form a cohesive presentation and represent your previous experience and creative abilities. It can be used to showcase both academic and professional work* and can include both graphic and written material.
*If you are including professional work please be sure to properly credit others and / or explain your role as part of a team.
Please complete and submit this Course Prerequisite Form as part of your application. The following college-level courses are required as prerequisites, and must be completed before entry into the MArch program:
Newtonian Physics (minimum grade of "C") — One basic college-level physics course covering light, heat, and sound. It is not necessary to take a calculus-based physics course.
Mathematics (minimum grade of "C") — One college-level course covering algebra plus geometry or trigonometry, or one college-level course in precalculus or calculus.
A Survey of the History of Architecture (minimum 1 semester or 2 quarters, minimum grade of "B") — A college-level course covering Antiquity to the present.
Drawing or Basic Design (minimum grade of "B")
If you have not completed these prerequisites at the time you apply, we will still consider your application. However, you must specify your plan to complete them before entry into the program.
Students who are not legal residents of California (out-of-state and international students) pay a non-resident tuition fee each term. U.S. citizens and permanent residents may be eligible to become California residents after their first year at UCLA Architecture and Urban Design. You can learn more information about California residency from the UCLA Registrar's Office UC Residency Guidelines.
Financial Aid
As a public university, we strive to make our programs accessible to students from a diverse population. UCLA Architecture and Urban Design offers graduate students a number of financial opportunities in the form of scholarships, need-based awards, teaching assistantships, readerships, student research awards, and work-study opportunities.
Recruitment fellowships are offered to the most outstanding students that apply to the MArch program each year. All applicants are considered for recruitment fellowships as part of the application review process; no additional applications are necessary to be considered for these awards. MArch recruitment fellowships generally cover one to three years of in-state tuition fees, including the professional degree supplemental tuition. Based on the current fee structure, the dollar value for each MArch package is about $26,000 for each year of funding offered.
Continuing MArch students are eligible for a range of award opportunities based on both merit and need. Each summer, second- and third-year MArch students can apply for awards based on need. Award amounts range from $1,000 to $5,000.
In the Spring quarter, continuing students can also submit design work to be considered for merit-based awards. These awards are announced at Awards Day during the end-of-year Rumble event and exhibition. A faculty committee reviews student work anonymously for as many as twenty awards ranging in value from $1,000 to $15,000 each. A number of these are named scholarships and fellowships through the generosity of alumni, private individuals, firms, or foundations, including:
Anne Greenwald Memorial Travel Scholarship
Carlin Glucksman Fellowship
CO Architects Fellowship
Edgardo Contini Fellowship
Franklin D. Israel Memorial Fellowship
Harvey S. Perloff Memorial Fellowship
James Pettit Memorial Fellowship
Jeffrey "Skip" Hintz Memorial Fellowship
John V. Mutlow Scholars Fund
Robert J. Webster Scholarship
SNW Development Scholarship
Systems Building and Housing Research Fellowship
Welton Becket Scholar Award
Wendell Scholarship Fund
Second- and third-year MArch students can also apply in the Spring term to be considered for Teaching Assistantships (TA) and Readership positions for the following academic year. These positions pay in-state fees and a salary for the awarded quarter. AUD typically awards about ten to twelve Teaching Assistantships and twelve to fifteen Readerships to MArch candidates in a given academic year.
We offer a range of employment opportunities for students to work in the department. These include social media, marketing, photography, videography, front office administration, exhibition management and installation, fabrication shop assistant and assisting with the print lab operations. Students can work up to 20 hours per week, build their skills in these areas and learn about the department in the process. Please enquire in the main administration office to learn more.
These employment opportunities are prioritized for Work-Study eligible students. There are two types of work-study programs: the Federal Work-Study program which awards up to $2,000 per year; and the Graduate Work-Study program which awards between $5,000 and $15,000 per year. Students who are eligible to receive federal loans can apply to be considered for one or the other program. General information on work-study programs can be found on the UCLA Graduate Division website.
The Graduate Work-Study Program is for "need-based eligible" graduate students completing part-time paid internships, community service, research projects, or other endeavors closely related to their academic degree program. Students must submit additional paperwork to be considered for the Graduate Work-Study Program.
Graduate Student Researcher positions are available depending on extramural or Academic Senate grants secured each year by individual faculty members. Students are notified as positions become available. Readerships are also available depending on funding received.
In addition, UCLA Graduate Division lists sources of UCLA funding for entering graduate students, as well as a fellowship application, which should be completed by all applicants who would like to be considered for UCLA Graduate Division fellowships.
The UCLA Financial Aid Office administers financial support based solely on need. Such awards include long-term low-interest loans and work-study funds, and are available only for graduate students who are U.S. citizens or permanent residents. These students can also apply for Federal Stafford Student Loans through the UCLA Financial Aid Office, which are long-term loans through private lending organizations.
A variety of extramural funding opportunities are available to graduate students including academic fellowships, research grants, competition awards, conference support, and exhibition funding. To be considered for extramural funding, students should apply directly to the funding organization. UCLA Graduate Division maintains extensive records extramural fellowship directories. Among these, the American Institute of Architects (AIA) and other architecture associations make awards annually.
NAAB Accreditation
From the National Architectural Accrediting Board (NAAB):
In the United States, most state registration boards require a degree from an accredited professional degree program as a prerequisite for licensure. The National Architectural Accrediting Board (NAAB), which is the sole agency authorized to accredit professional degree programs in architecture, offered by institutions with U.S. regional accreditation, recognizes three types of degrees: the Bachelor of Architecture, the Master of Architecture, and the Doctor of Architecture. A program may be granted an eight-year, three-year, or two-year term of accreditation, depending on the extent of its conformance with established educational standards. UCLA Architecture and Urban Design has been granted an eight-year term of accreditation based on the NAAB visit in 2016.
Doctor of Architecture and Master of Architecture degree programs may require a pre-professional undergraduate degree for admission. However, the pre-professional degree is not, by itself, recognized as an accredited degree.
University of California, Los Angeles, Department of Architecture and Urban Design offers the following NAAB-accredited degree program:
Master of Architecture (MArch) (non-architecture undergraduate degree or, four-year nonprofessional degree in architecture + 126 graduate credits)
Next accreditation visit for the accredited program: 2024.
To read more about the NAAB Conditions of Accreditation, please visit:
Current and previous NAAB Conditions and Procedures:
Current and previous Program Reports:
Previous Annual Statistical Reports:
To learn more about the ARE and ARE Pass Rates by School, please visit: