UCLA Architecture and Urban Design is located at Perloff Hall on UCLA's Westwood campus. We also have a satellite facility — the IDEAS campus — near Culver City, which serves as an incubator for collaborative, cross-disciplinary design research, and the location for our post-professional M.S.AUD program.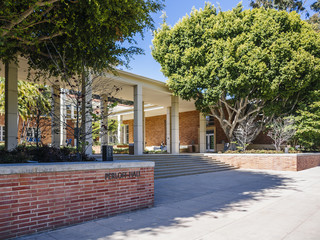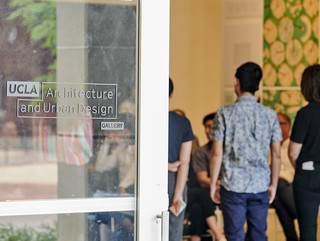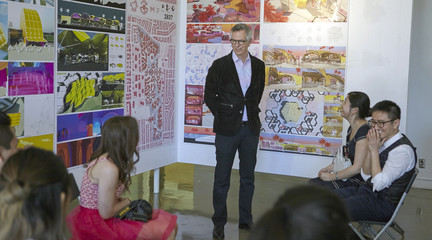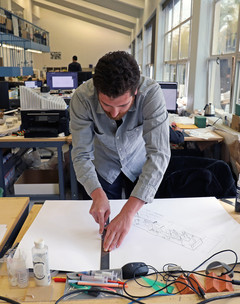 Perloff Hall on the UCLA campus

Perloff Hall Gallery

Student exhibition

Student working in studio
Perloff Hall
Perloff Hall is named after Harvey S. Perloff, who served as dean of the UCLA Graduate School of Architecture and Urban Planning from 1968-1983. Perloff Hall is located on the northern end of the UCLA campus, alongside other prominent UCLA School of Arts and Architecture buildings including Broad Art Center, Royce Hall, and the Fowler Museum, as well as the Franklin D. Murphy Sculpture Garden.
Most graduate architecture classes are held in Perloff Hall, which contains studio spaces, seminar rooms, classrooms, a lecture hall, exhibition gallery, and faculty and admin offices. Graduate and undergraduate students have dedicated studio spaces with their own desks and designated storage spaces. All studio spaces are secure private workspaces for students. M.A. and Ph.D students have their own study area in the building. The building is closed to the public during off-hours, but students have 24/7 access to the facilities.
UCLA Architecture and Urban Design has longstanding expertise in emerging technologies and continues to set the standard for integration into the overall academic curriculum. In addition to training students in conventional building technologies necessary for professional competence, such as structures, construction, environmental control, and mechanical systems, we also seek to advance the state of architectural knowledge by undertaking research in emerging technologies.
Leading architectural technologists take time out from their practices to teach students in Technology Seminars and studios that focus directly on applying emerging technologies to contemporary problems. These courses explore a wide range of design and computational issues, with a particular focus on the manufacturing process, environmental and sustainable design, and new techniques of visualization. Advanced courses explore special topics in computer-aided design, software development, new modes of manufacturing, and the use of numerical control in the development of building elements and assemblies.
The Fabrication Shop at Perloff Hall offers a wide range of traditional tools, as well as large-scale CNC (computer numerically controlled) routers, laser cutters, 3D printers and large-scale vacuum formers. The Fabrication Shop is open 24/7 and specialized tools can be used under the guidance of the Shop Manager and student assistants. All students receive training at the beginning of the program and the Shop Manager can also provide guidance and expertise on fabrication techniques.
UCLA Architecture and Urban Design provides a rich environment for specialized software development and design innovations. Perloff Hall is a wireless environment, with wired network access for students and faculty in the studios. Our Print Lab is open to students 24/7 and provides access to regular and large-format high-resolution color plotters and laser-jet printers. The Print Lab also houses computer stations equipped with software for a wide range of computer-aided design, modeling, graphics, virtual reality, and real-time simulation.
Bruin Online (BOL) is a collection of services provided by UCLA that includes centralized email services, wireless network connectivity, file sharing services and access to many UCLA campus and library facilities. Students can access BOL with their UCLA Login ID.
Named by former dean of UCLA's Graduate School of Architecture and Urban Planning (now UCLA AUD), Professor Emeritus Richard Weinstein (1932-2018), the Decafé is the intellectual heart of UCLA AUD's Perloff Hall. With a 150-seat capacity the Decafé is a multi-use space that is used for all major department events including lectures, symposia, Career Day, and more.
The Perloff Gallery is a dedicated exhibition space that features the innovative work of faculty, students and invited architects, artists and designers.
The UCLA Arts Library is located in the Public Policy Building adjacent to Perloff Hall. It offers an interdisciplinary research collection in the areas of architecture and the history of architecture as well as art, art history, design, film and television, photography as a fine art, studio art, and theater, and is comprised of more than 254,000 volumes. Holdings in architecture include approximately 51,000 books wholly or partially devoted to the field, 650 current serial subscriptions (including some 300 periodicals), extensive backfiles of periodicals with indexes, and a collection of theses from UCLA Architecture and Urban Design students. The library receives the most important American, European, Japanese, and Australian architecture titles, and also gets many leading periodicals covering graphic, industrial, and furniture design. Its holdings, particularly in the areas of regional and contemporary architecture, are continuously expanding.
The Young Research Library is also located in North campus close to Perloff Hall. Their Department of Special Collections actively collects drawings and papers of architects and landscape architects. Among the architects represented are Richard Neutra, A. Quincy Jones, S. Charles Lee, and Lloyd Wright.
In addition to hard-copy resources, UCLA offers an abundant choice of digital resources for architecture students. ORION2, the University Library's online information system, provides access to books, archives, audiovisuals, computer files, dissertations, government documents, and maps in all UCLA libraries. The California Digital Library's (CDL) Melvyl Catalog provides computerized access to similar multimedia resources in the libraries of the nine UC campuses, the California State Library, the California Academy of Sciences, the California Historical Society, and the Center for Research Libraries.