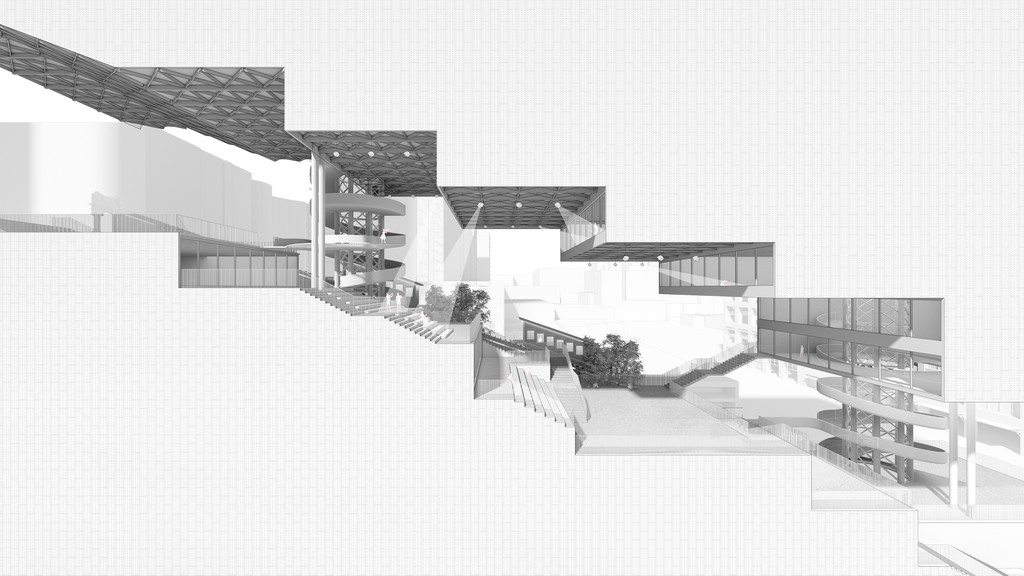 401 Advanced Topics Studio
2018
This studio will research the relation between modern architecture and the ground it occupies, as a continuation of previous studios taught by PRODUCTORA at UCLA and IIT. The 2016 studios at both universities were called "Being the Mountain" and took hill-side housing as a central theme. The title was taking from Ricardo Legorreta's description of the Camino Real Hotel in Ixtapa (1981), an impressive holiday resort, draped over an ocean-facing slope of the Sierra Madre mountain range: a powerful example of a building that engages with topography without falling into nostalgic place making or the organically mimicking of natural contours. The Fall 2017 studio at UCLA was entitled "Above the Volcano" (a play upon Malcolm Lowry's 1047 book 'Under the Volcano') and researched the architecture of the Pedregal Development in Mexico City. The Fall 2018 studio at IIT is entitled 'Elevated, Surface, Depressed' after Michael Heizer's 1982 artwork in which he places natural objects above, on top or within a geometric plinth, questioning the relation between man-made and natural objects and between natural and artificial landscapes.
This Fall 2018 studio at UCLA is called "On Topography" and explores the way architecture is 'inscribed' within the site. Kenneth Frampton: "I think one of the tragic things about modernization is that there is a very strong effort to turn building into a commodity. And of course, the freestanding object is already moving towards its own commodification. The object that is integrated into the ground has the capacity to resist that commodification." "As Utzon, Aalto and Siza have demonstrated, giving primacy to the earthwork means to take a stand against the cult of the building as a freestanding aesthetic object. To put a major emphasis on the layering of a building into its site and on the mediated extension of its structure into the ground, means to take a stand against the recent tendency to reduce architecture to fine art..."
The site chosen for the project is however not located with a natural landscape, but located in DTLA: complex in its topography as well as layered, in historic, spatial and programmatic terms. It is adjacent to a public transport stop (METRO Red Line), a tourist attraction (the historical 1901 'Angels Flight' railway) and the large California Plaza Development by Arthur Erickson (the result of a competition in 1980), including Arato Isozaki's MOCA. Across the street, we can find the buzzing Grand Central Market. Students were asked to insert a new program (see further) into this complex site, designing an architectural project that has the capacity to re-write and to give meaning to the context that surrounds it.
| | |
| --- | --- |
| Related Faculty | Wonne Ickx |