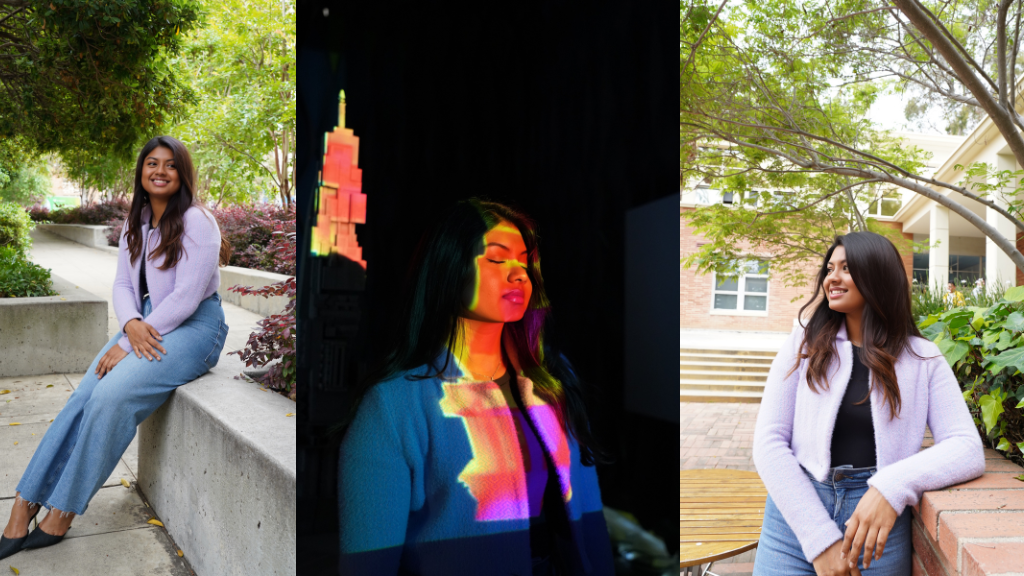 News
Student
Vibrant emotions, lasting memories: Shrinethraa Senthil Kumar (MSAUD '23) weaves data into evocative architecture
This is the third in a series of profiles of AUD's outstanding graduating students. Also check out our previous installments: profiles of Alexis Winarske (BA '23), and Motomi Matsubara (MArch '23).
Vibrant emotions, personal epiphanies, lasting memories–these are some of the inspirations (and aspirations) of Shrinethraa Senthil Kumar's architecture.
Born in Coimbatore, India, and raised in Bangalore and Singapore, Shrinethraa Senthil Kumar (MSAUD '23) earned a Bachelors of Architecture with distinction from Manipal School of Architecture and Planning in India in 2022. During her final year of studies at Manipal, she simultaneously completed a year-long internship with Bangalore's Cadence Architects. After graduation, she enrolled at UCLA Architecture and Urban Design (AUD), graduating from AUD's Master of Science in Architecture and Urban Design (MSAUD) program this past June with an Entertainment Studio concentration.
As a child, Kumar loved fiction stories, drawn to authors' world-building, their narration of new environments and cities. Her mother inspired an eye for craft and aesthetics, while her father–an engineer–nurtured Kumar's curiosity about the mind-bending urban structures around them.
Immersed in those megacity environments of Singapore and Bangalore, Kumar grew sensitive to how cities and spaces absorb different values, histories, and narratives, and how they project and illustrate those narratives to the world.
"Surrounded by Singapore's towering concrete skyscrapers and the ornate timber houses of Bangalore, I was always exposed to the captivating interplay between urban modernity and traditional charm," Kumar observes. "I began to wonder about the stories embedded within these structures and how they shape our experiences."
Her experiences in those global cities, and an interest in how they gather and tell stories, would inspire Kumar to study in another global city–Los Angeles.
"LA was a draw as an immersive experience," she says, "a city where entertainment, industry, innovation, and design seamlessly intersect and inspire one another."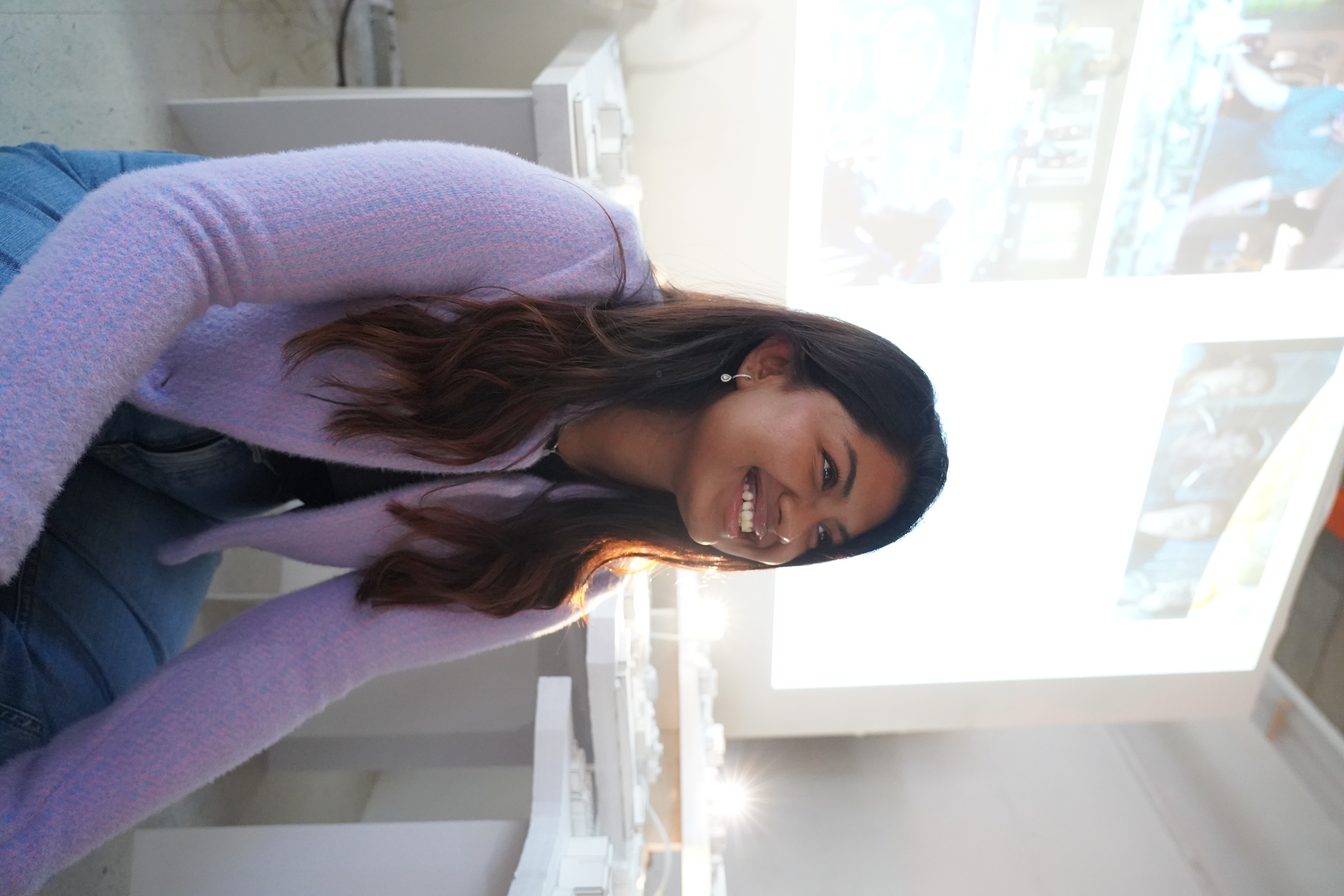 In turn, Kumar is now connecting the seams of her generous, interdisciplinary design vision, catalyzed by an interest in human-centric architecture. As technology advances, Kumar observes, designers must remain grounded in their commitment to prioritize the human experience. Kumar enrolled in the MSAUD program's Entertainment Studio to quantify and enrich these mindsets. Explore Kumar's design portfolio, and check out some of her AUD video narratives at the end of this profile.
"The true beauty of architecture lies in its ability to interweave narratives, captivate the human spirit, and serve as a powerful storytelling medium," Kumar says. "By integrating storytelling into my designs, I hope to create spaces that truly captivate and engage individuals, where stories come to life and personal connections are nurtured."
Data analysis is fundamental, Kumar observes, to creating nimble, human-contoured design. As artificial intelligence and machine learning continue being integrated into modern life, she sees data and data-focused analysis as the scaffolding needed to anchor design in the realities of the human experience.
"When we bring human-centric data into design, users become active participants, and this personalized experience feels tailor-made for them," Kumar says. "Just as bricks are used to build a house, a heartbeat can become a component of a piece of architecture."
A range of intellectual inspirations have guided Kumar's vision. Kumar's undergraduate mentor, Ar. Nikhil Kohale, inspired her to see each building element as a piece of a narrative, or a line of a story. She pursued this thread through her undergraduate dissertation on cinematic architecture, investigating how visual signals, images, and spatial compositions add up to immersive experiences, and how such visual, immersive settings can find new ways of drawing emotion from audiences.
Kumar's favorite design reads include John May's Signal. Image. Architecture and Juhani Pallasmaa's The Eyes of the Skin for their insights on the power of sensory experience in architecture. Each book stoked Kumar's curiosity around spatial composition and visual language like patterns, colors, and textures, but also around other senses–touch and feel, but also sound and smell. May and Pallasmaa also catalyzed some of Kumar's other key interests: integrating digital technologies and visualization into the total design process, and the use of data and visualization toward better physical outcomes.
Studying with the MSAUD Entertainment Studio's Liam Denhamer and Natasha Sandmeier, Kumar has engaged the MSAUD program toward finding innovative, genre-defiant approaches to shaping the stories, and the worlds, at the heart of her vision.
With AUD project "a-mor-phous," Kumar and collaborators presented visual interpretations–literal data structures–of key climate indexes like changes in surface temperature and energy consumption–in order to illustrate the effects of climate change. Through the project, Kumar and colleagues turn this data visualization into a community-building power, fostering human dialogue and connection amid uncertainty or looming threat.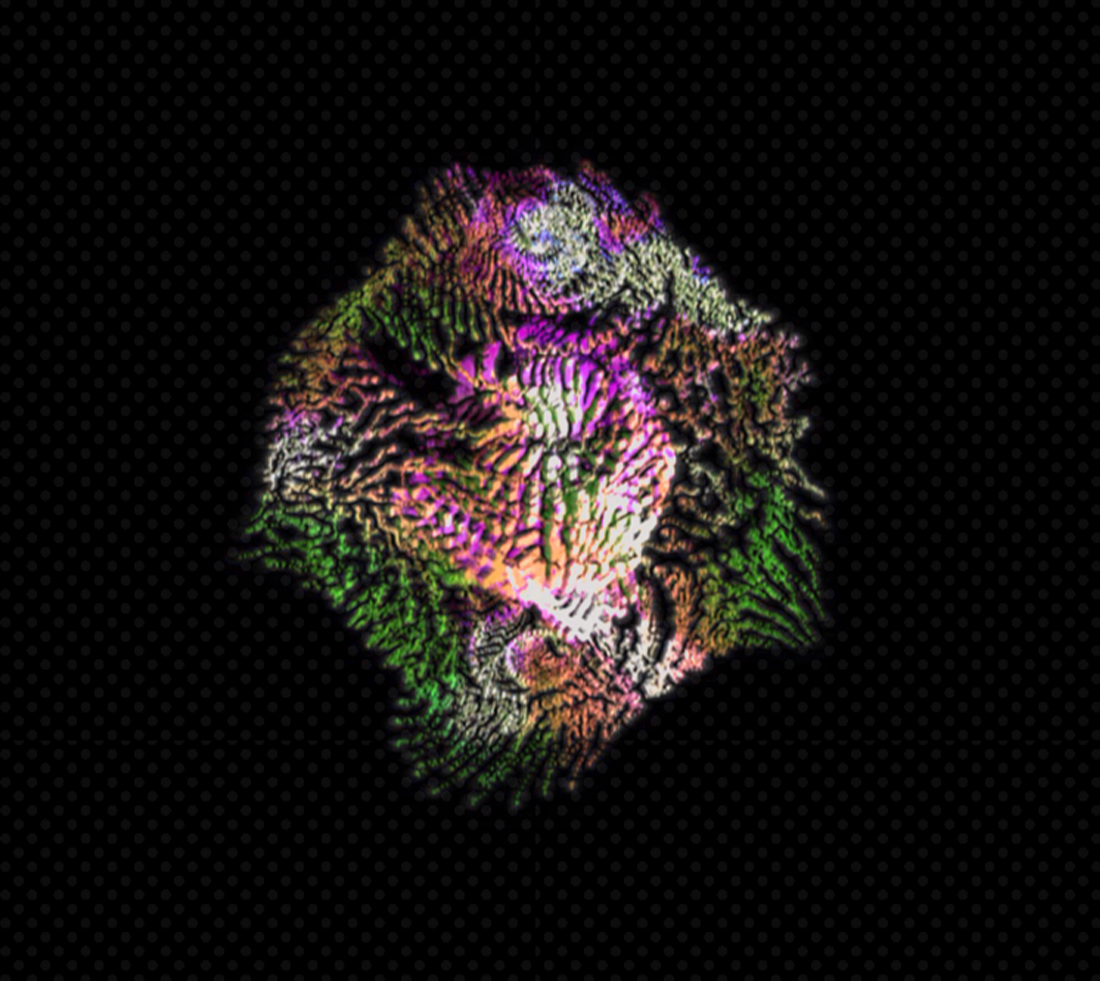 Over her MSAUD studies, Kumar expanded this framework–data as design's heartbeat–into a series of world-building projects, many evoking the future of climate change. "After Image" takes us to the year 2050, when forest fires have become a part of everyday life in California. In Kumar's world-build, a so-called Happy Hearth in the user's living room flashes ominous orange hues as fires approach. The Happy Hearth is futuristic, but the rest of the living room is deliberately dated and nostalgic, evoking the lifestyle and the people that inhabited it before.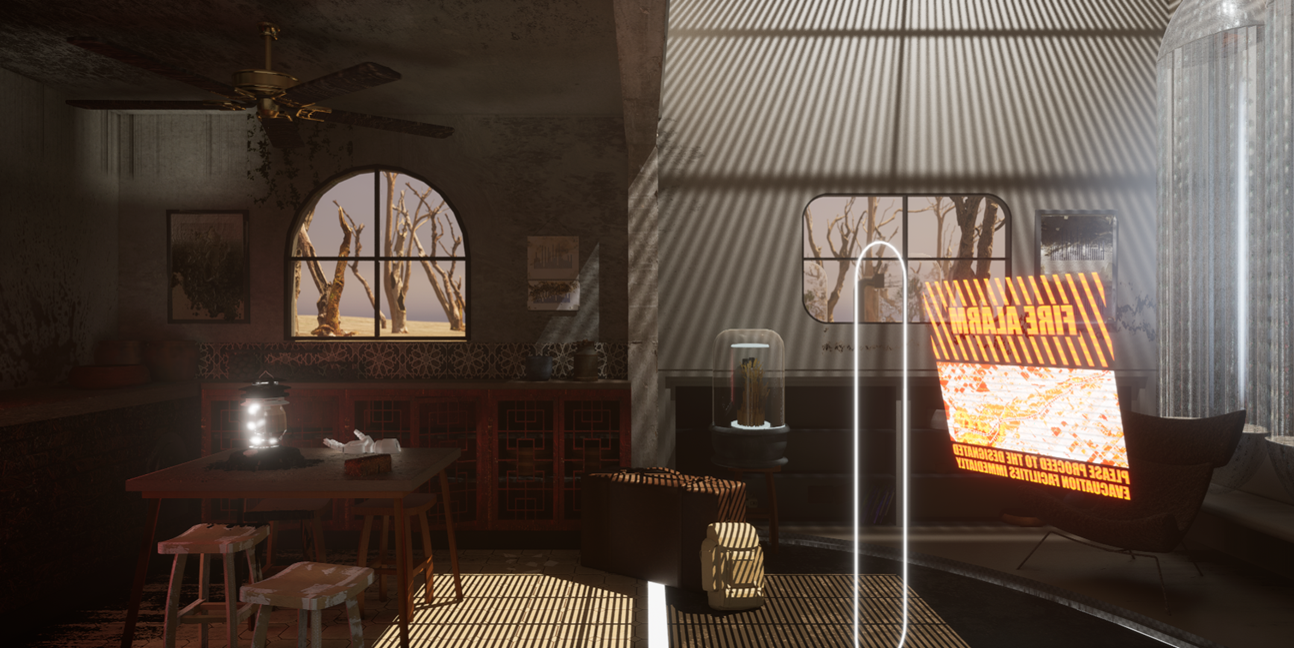 Kumar's aspiration with "After Image," and so much of her work, is to engage emotions and emotional reactions to raise awareness, but also to connect people in the process.
"In California and around the world, devastating wildfires have become a pressing issue, yet also, eerily routine," Kumar says. "We want someone who hasn't experienced that threat to feel it for just a minute."
Kumar's "Last Light" views the climate crisis through the eye of the natural environment. "Last Light" depicts a world of cities, floating on repurposed oil rigs, in which depleted energy resources and thick pollution have forced people to rely on luminous plants and animals for light. Kumar and colleagues created a film, virtual-reality experience, guidebook, and physical model of a lantern from the world of "Last Light," confronting viewers with the challenges of a world where sea levels have risen and resources are depleted.
"'Last Light' was an immersive narrative that captivated our end-of-year audience at Rumble," Denhamer says. "Shrinethraa demonstrates an outstanding proficiency in both design and storytelling. I can't wait to hear about her future endeavors."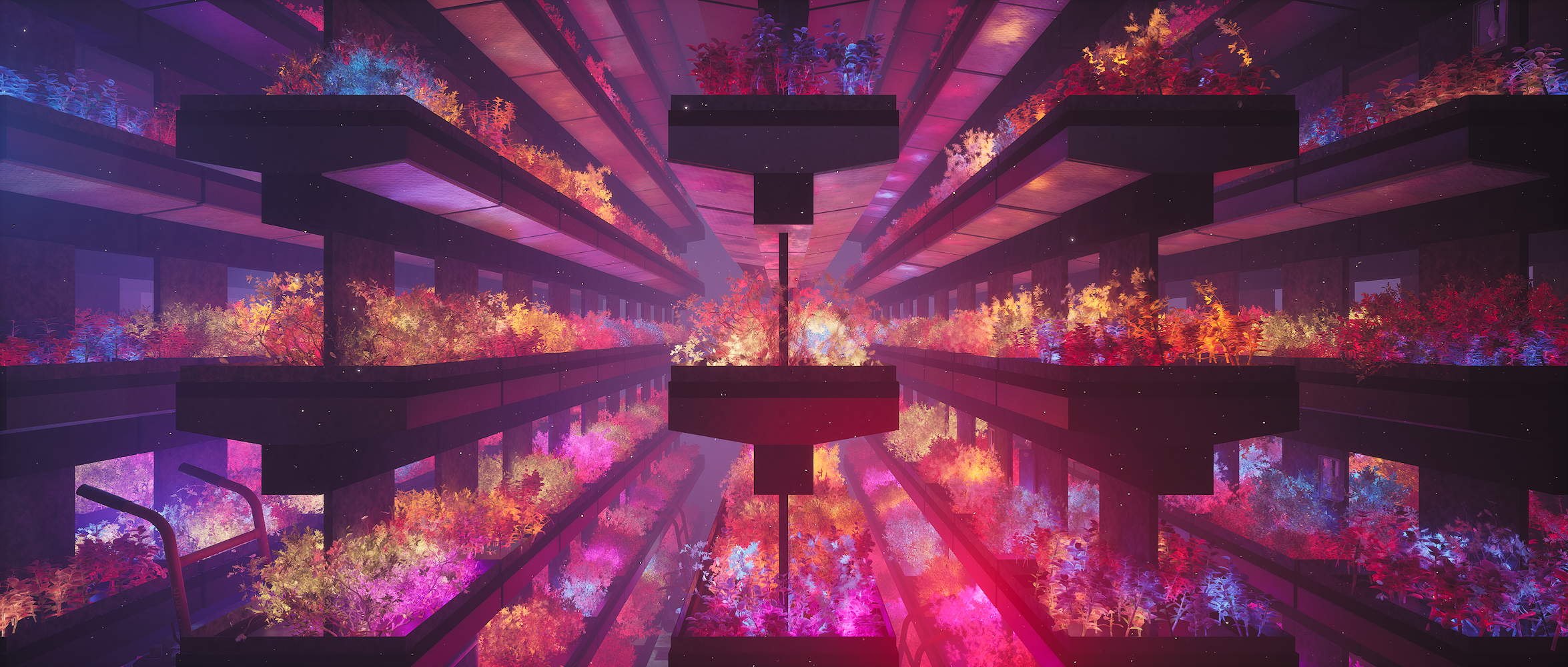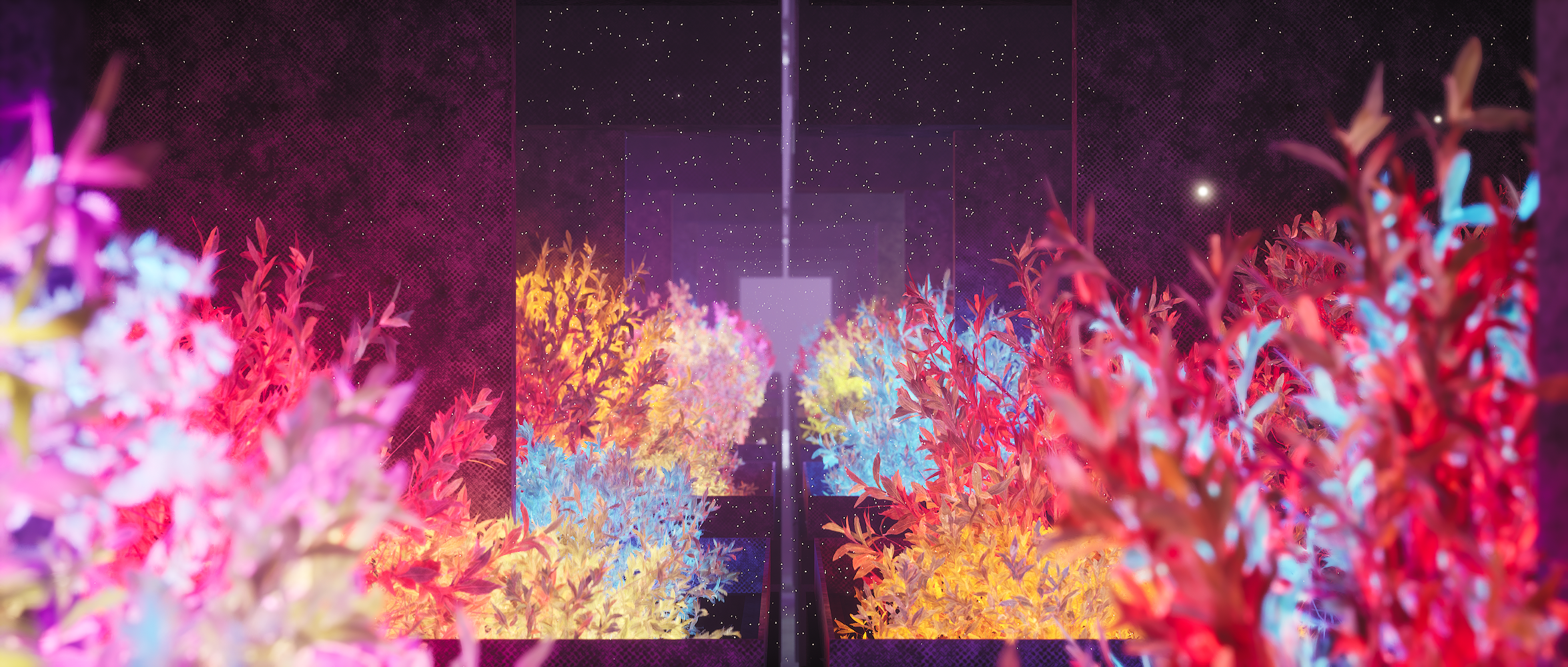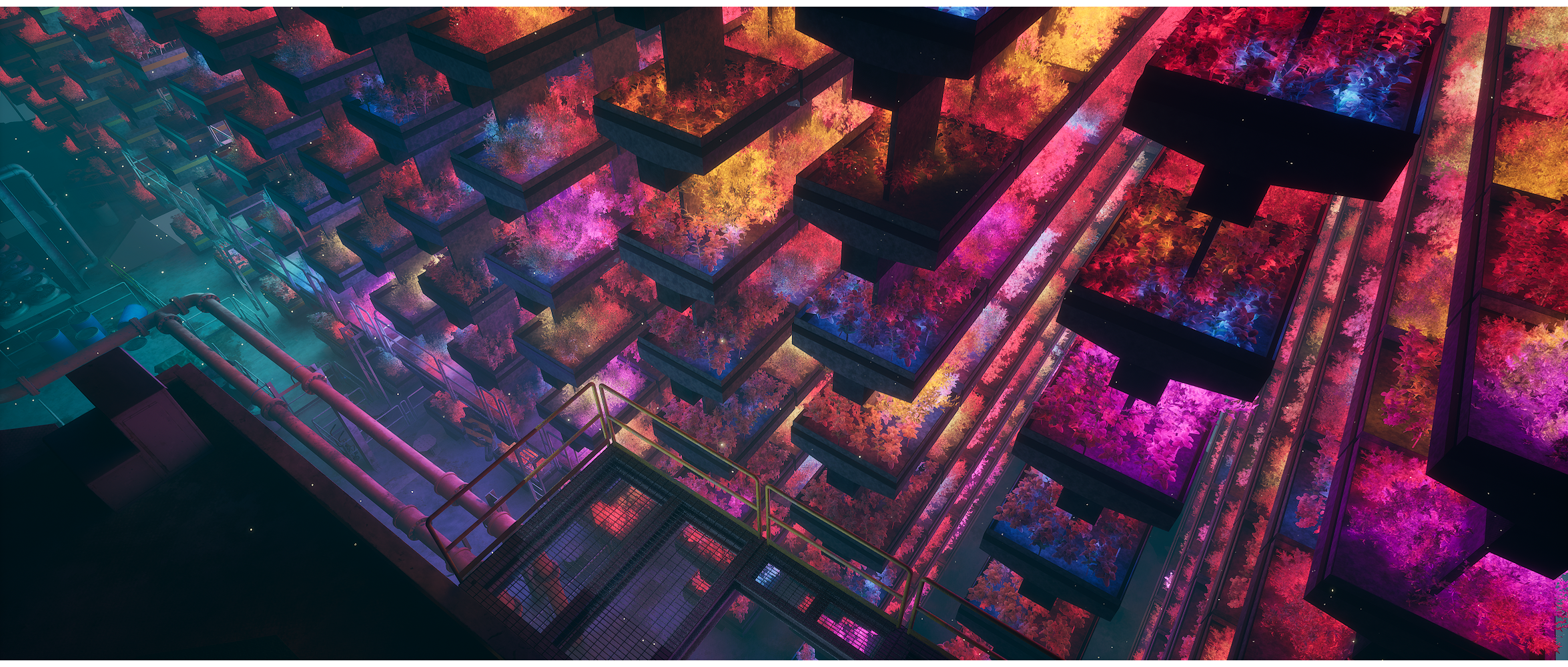 Images of the Light Library from "Last Light"
If these stories and experiences sound ominous, it's by design. Kumar drew from various disciplines–ecology, physics, biology, psychology–in order to distill and then illustrate the long-term, global challenges at stake in the designs we create today, locally. While illuminating dangers, and the common, human emotions around each, Kumar also hopes to highlight solutions–especially the potential for designers to draw from other experts and fields in order to create more innovative, responsive work.
"The use of materiality, textures, light, and sound in architectural design contributes to the creation of narratives, allowing users to engage on a multisensory level and fostering a more profound and meaningful connection with the space," Kumar observes. "In the broader context of design, storytelling and visualization play a crucial role in capturing attention, sparking imagination, and fostering meaningful engagement."
While completing her MSAUD studies, Kumar also worked part-time as a facilities assistant at the MSAUD program's IDEAS Campus. "The exposure to diverse tools and resources, such as 3D printing, laser cutting, and projectors, has fueled my creativity and innovation. The hands-on experience in the MakerSpace has empowered me to explore new fabrication techniques and embrace challenges, like projection mapping. This opportunity has expanded my creative horizons and fostered a spirit of curiosity and innovation in the Entertainment Studio."
Now, Kumar is reflecting on how her MSAUD journey both synthesizes and fast-forwards her design interest.
"Through Natasha Sandemeier's influence I've taken a total attitude towards worldbuilding," Kumar says. "Her mentorship pushed me to explore innovative approaches, adding layers of depth to my work and embracing the boundless possibilities of visual storytelling. Natasha's influence has truly transformed my creative journey."
Kumar also appreciates that, while the MSAUD program is contained within one year, the program's flexibility enables if not encourages exploration outside of a direct focus.
"MSAUD is such a flexible program, allowing me to explore technology seminars outside my main area of focus and collaborate with students from different studios and create truly unique design projects," Kumar notes. She thanks AUD's Tucker Van Leuwen-Hall and the seminar "Models and Objects" for an exploration of diverse entities as potential manifestations of architectural forms, expanding her sense of architecture's possibility.
"Tucker's incorporation of physical modeling, still life, machine learning, photogrammetry, and artificial intelligence within a singular project propelled me to venture beyond conventional boundaries," Kumar observes, "forging an innovative path that kept me at the forefront of pioneering endeavors."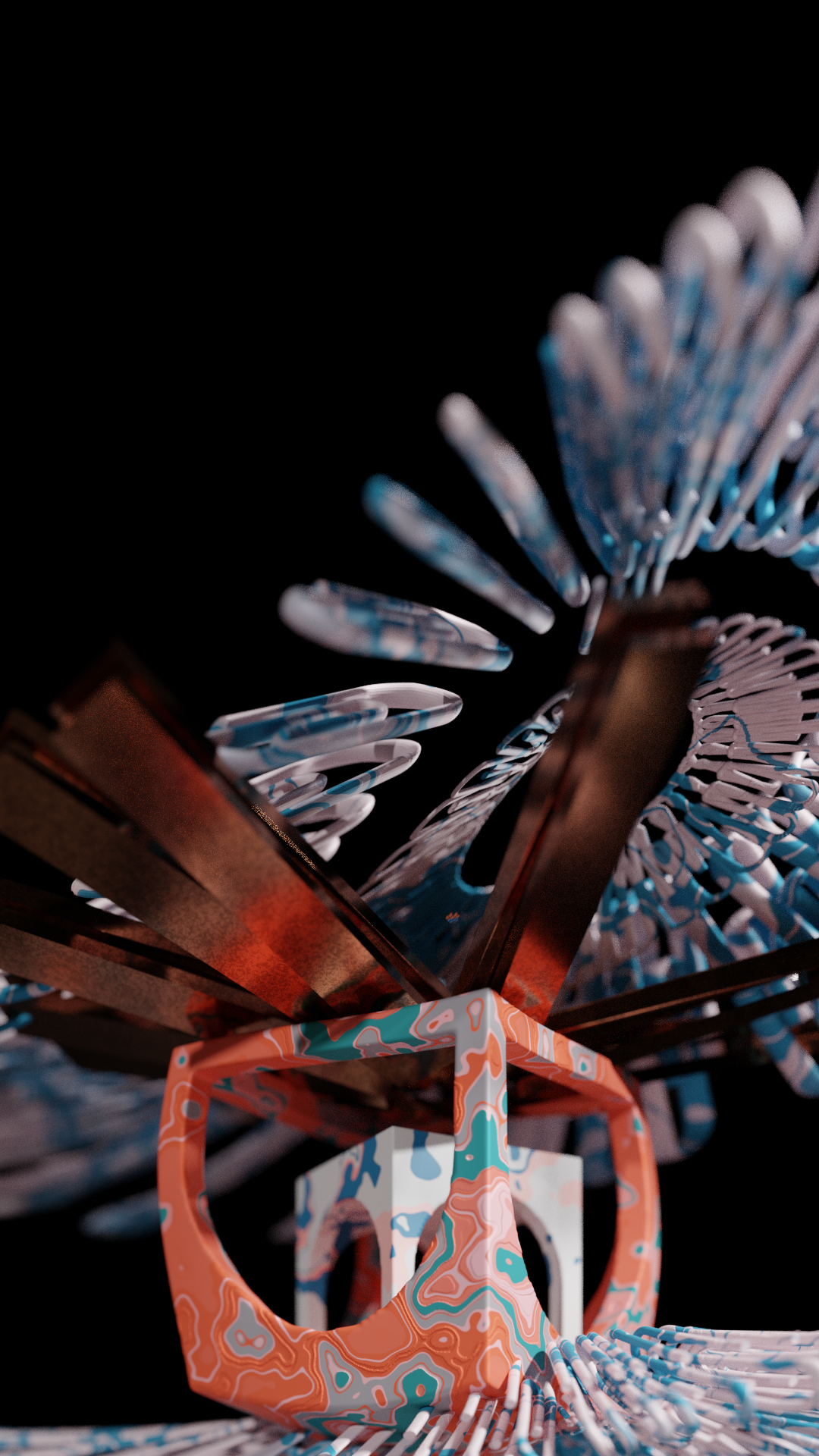 Looking ahead, Kumar hopes to leverage and deepen a unique skill set in construction, data analysis, visualization, and architecture to create captivating and immersive spaces–digitally, physically, and beyond. Following graduation, Kumar has pursued a full-time opportunity at Kovac Design Studio, where she is an architectural designer. Her work includes every aspect of project development, from conception to construction; collaborating with consultants, contractors, and clients, Kumar manages a variety of processes–construction documents, presentations, renderings, and schedules–while also researching new materials.
"UCLA offered a platform where I could explore the intersections of my interests and values," Kumar observes. "My goal is to push the boundaries of design, embracing cutting-edge technologies and collaborative approaches. Through the power of storytelling, I aim to inspire others and leave a lasting impact on those who interact with my creations."
In looking forward, Kumar remains rooted in her earliest experiences.
A favorite childhood activity was visiting Singapore's Sentosa Merlion Park, with its famed 122-foot-tall "merlion" statue. Kumar would dwell on the intricate craftsmanship of specific details, but also felt moved, sometimes overwhelmed, by the park's sprawling whole: interconnected parklets each bustled with activity and people, and the trek to the top opened into sweeping city views and a cool sea breeze, a total experience that evoked wonder and adventure for the future designer.
"Sentosa Merlion was a gateway to imagination and exploration," Kumar says. "The seamless integration of built work and natural environment left an indelible mark on my young mind and inspired a passion for harmonious spaces that seamlessly merge with their surroundings."
"This is truly the kind of architecture I want to create."