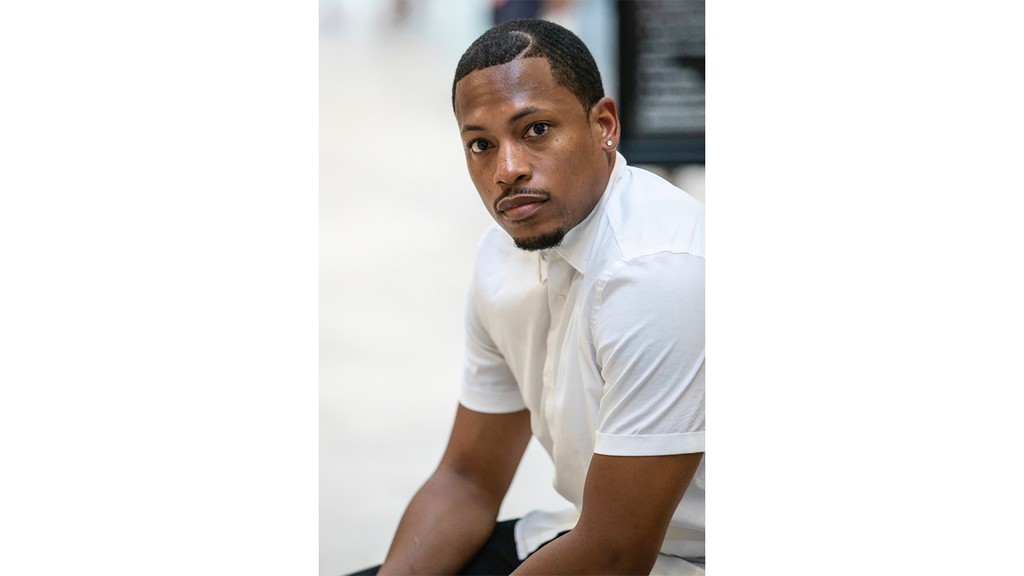 Germane Barnes' award-winning research and design practice, Studio Barnes, investigates the connection between architecture and identity, examining architecture's social and political agency through historical research and design speculation. Mining architecture's social and political agency, he examines how the built environment influences black domesticity. Barnes is also an Assistant Professor and the Director of The Community Housing & Identity Lab (CHIL) at the University of Miami School of Architecture. Born in Chicago, Illinois, Barnes received a Bachelor's of Science in Architecture from the University of Illinois at Urbana-Champaign and a Master of Architecture from Woodbury University where he was awarded the Thesis Prize for his project Symbiotic Territories: Architectural Investigations of Race, Identity, and Community.
Barnes presents a lecture as part of AUD's Public Event Series on Wednesday, October 19. Ahead of that, he spoke with AUD about his journey thus far and some recent projects.
First, congratulations on the range of projects you've completed, and the awards and honors received, in the past couple of years. How has it felt to bring Unsettled on view and into the world?
It's been an incredible and unbelievable past three years. It's a testament to years of building a research agenda, surrounding myself with people much smarter than me, and a nurturing infrastructure. Those elements are all present in Unsettled, my first-ever solo design exhibition.
It was slightly terrifying, as I have never presented work in such a way. There was a lot of second-guessing, wondering if the work will resonate and give a slight peek into my development as a designer. That's why it is so appropriately titled: my career trajectory is unsettled, my path to architecture was unsettled, my travels abroad and stints in various countries were unsettled, and Blackness continues to be Unsettled. I'm thrilled for people to see the work at Nina Johnson Gallery in Little Haiti, Miami.
Tell us about the Los Angeles piece in Unsettled.
Every piece of work in the show references migration through a city that I have resided in. Los Angeles was a very important point in my career, as it was where I attended graduate school and later received my first paid job offer. I worked for French architect Francois Perrin, which was an amazing opportunity, and during that time we collaborated with internationally recognized visual artist Xavier Veilhan. For an entire summer I was fortunate to work at the Neutra VDL House in Silver Lake and learn from two immensely talented designers through the Architectones proposal. The Los Angeles piece in Unsettled references this period and is made of materials (resin) akin to the materials we used during that installation in 2012.
What impact or influence did studying in Los Angeles create on your development as a designer?
Studying in Los Angeles was pivotal in my development. I was transported into a city steeped in design culture and experimentation. Being from Chicago, where architecture is king, I am quite familiar with the importance of design, but I was not as exposed to design innovation during my early years of education.
Los Angeles introduced me to using architecture as a narrative-building tool that I utilize daily. Separately, I think timing also plays a key role in a person's development; living in Los Angeles from 2010 to 2013 was amazing in that many of the young architects winning awards today were all living and designing in LA then. It was a great time for collaboration and learning.
I was fascinated by your Wheelwright proposal, which involved some intensive, travel-based research. Likewise, with the Rome Prize, you were sited in Rome and visited sites personally and physically. What was the impact or power of being able to experience architecture, especially material at the center of your research, in that physical way?
My current research is focused on finding architectural processes–originated in North Africa, but adopted and utilized in Italy–that culminate in a new columnar order, inspired by the Diaspora. It is in part a study of migration, but instead of people migrating, it is processes. It would have been impossible to do this work without traveling to Italy and North Africa.
Fortunately, some very reputable institutions are supportive of this work and have provided significant funding to not only bolster my own knowledge of the diaspora, but bring that knowledge to larger architectural audiences. The American Academy in Rome provided me the opportunity to learn from leaders in adjacent disciplines, and those conversations were integral in my intellectual development.
Part of your work and research at the University of Miami is through your Community, Housing & Identity Lab. Metropolis connected the lab with some of your other, ongoing work and research, fueled by "the desire to shatter seemingly imposed structures in order to propose new patterns and habitations." What are some of the themes or provocations that the lab is currently taking up?
The Lab is really the testing bed for many of the unconventional ideas I am interested in. Currently we are providing design support to a historically Black community in Palm Beach County, Florida, named Delray Beach. There is a cohort of residential activists working diligently to preserve their neighborhood's character and history. Together with Thrive Delray, a local non-profit organization, we are conducting some asset-mapping while also proposing new cultural spaces for a historically Black community. Expect to see and hear more about these projects next summer.