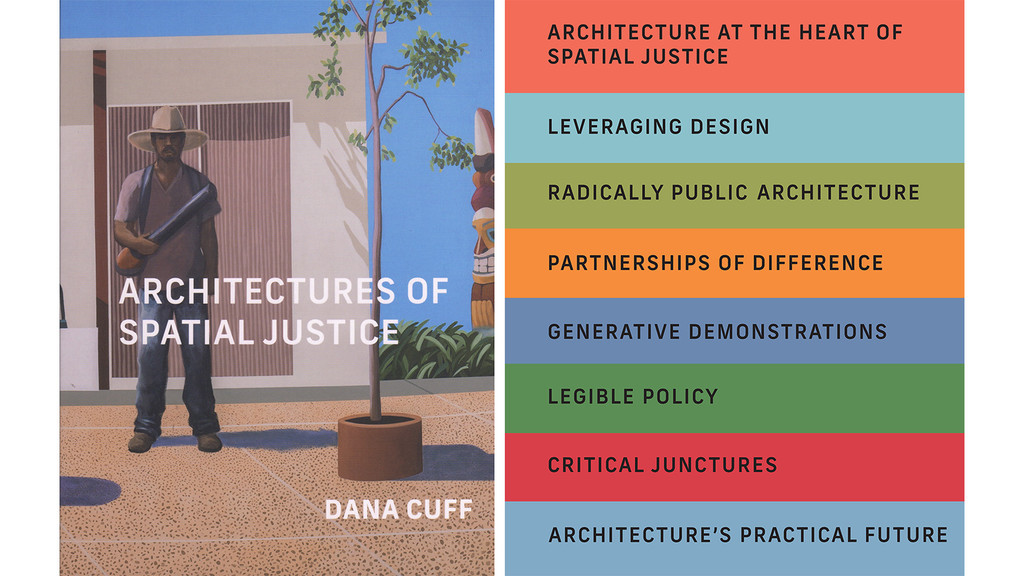 News
Faculty
Dana Cuff's latest book demonstrates how architects are breaking with professional conventions to design more equitable spaces
Text by MIT Press
As state violence, the pandemic, and environmental collapse have exposed systemic inequities, architects and urbanists have been pushed to confront how their actions contribute to racism and climate crisis—and how they can effect change.
In her new book Architectures of Spatial Justice, AUD Professor Dana Cuff reveals why architecture as a discipline requires this critical examination. Blending theory, history, and applied practices, Cuff establishes a code of ethics that breaks with professional conventions to correct long-standing inequities in the built environment, uncovering both architecture's limits and its potential. MIT Press describes the book as "a field-defining work that demonstrates how architects are breaking with professional conventions to advance spatial justice and design more equitable buildings and cities."
See below for endorsements of Cuff's new book -- and join her at AUD on Tuesday, May 30 for a book event
In considering the cover design for Architectures of Spatial Justice, Cuff's background and continued interest in the visual arts brought her to American artist Jay Lynn Gomez. Gomez's work focuses primarily on issues of immigration, race, and labor. Her pieces include multimedia reimaginings of other artists' works, using cardboard cutouts of characters like landscapers, nannies, and other oft-unseen and underappreciated workers to reveal the underpinnings that make our society run smoothly.
"She brings into focus an often-hidden layer in how to see the world," Cuff said. "She literally makes visible the repressed, marginalized, and exploited laborers in the Los Angeles landscape."
"You won't be able to look at a gated house or a clean yard without the Jay Lynn Gomez lens," she adds.
Gomez's 2014 piece "American Gardeners" is featured on the cover of Architectures of Spatial Justice. It depicts a precise, sparse sculpture garden with two men—one wielding a leaf blower—tending to it. The work is a riff on David Hockney's 1968 painting "American Collectors," but Gomez's version replaces the contemporary art collectors Fred and Marcia Weisman in Hockney's piece with the workers who undoubtedly kept the space around them so pristine.
"When I saw the Weismans in their stiff environment—a kind of modern box, with their collection of indigenous art and abstract art around them—replaced with gardeners, that seemed to me a kind of perfect metaphor for thinking about architecture in a way that we haven't seen architecture portrayed before," Cuff said.
Cuff was especially drawn to the figure highlighted on the cover of her book. His leaf blower, Cuff argues, could be seen as a cross between a weapon and a musical instrument. He stands powerfully, facing the viewer directly. Cuff was inspired by the feeling of resistance the figure inspired in her. "When looking at that figure specifically, I get a sense that this man may keep this yard clean, yes," she said, "but he exudes a strength and creativity all his own."
Cuff hopes that readers of her book feel a similar inspiration. "I want this next generation of architects to know that privilege doesn't own aesthetics," she said. "We always assume that if you're interested in formal issues in architecture you can't be interested in social issues, and if you're interested in social issues you're likely to not be interested in formal issues." She considers that to be old wisdom—and something that has become largely outdated.
She sees that there are ways architects can leverage design for public good through both resistance and creativity. "It's not as if we have to change the discipline across the board: it's that we need to see those opportunities and invisible sites where inequalities could be transformed by advancing more just alternatives."
Organized around projects and topics, Architectures of Spatial Justice is a compelling blend of theory, history, and applied practice that focuses on two foundational conditions of architecture: its relation to the public and its dependence on capital. The book draws on studies of architectural projects from around the world, with instructive case studies from Chile, Mexico, Japan, and the United States that focus in particular on urban centers, where architecture is most directly engaged with social justice issues.
Emerging from more than two decades of Cuff's own project-based research, Architectures of Spatial Justice examines ethically driven practices that break with professional conventions to correct long-standing inequities in the built environment, uncovering architecture's limits—and its potential.
A Professor at AUD, Cuff engages spatial justice and cultural studies of architecture as a teacher, scholar, practitioner, and activist. Her leadership in urban innovation is widely recognized both in the U.S. and abroad. In 2006, Cuff founded cityLAB, a research and design center that initiates experimental projects to explore metropolitan possibilities. In 2019, cityLAB expanded its social and political engagement by creating coLAB in the Westlake/MacArthur Park neighborhood of Los Angeles, in long-term partnership with community organizations. cityLAB represented the United States at the 2010 Venice Architecture Biennale, was featured on CNN and in Newsweek magazine, and was named one of the top four urban think tanks in the country by Architect Magazine. The lab's "housing first" research demonstrates that affordable, well-designed housing and neighborhoods are attainable foundations of equitable cities. cityLAB has developed sustainable, high-performance, low-cost housing prototypes for infill sites ranging from backyards to schoolyards.
Endorsements of Architectures of Spatial Justice
"An inspiring and provocative book that shows how architecture can turn away from its proximity to late capitalism and bend toward social justice." -- Ananya Roy, Professor of Urban Planning, Social Welfare, and Geography, UCLA; Founding Director of the Institute on Inequality and Democracy, UCLA
"Can justice be built? Cuff argues for alternatives to capital-dominated architecture and explores case studies that create community, dignity, and safety for all. This book is an inspiration—for architects, designers, clients, and policymakers alike." -- Angelika Fitz, Director, Architekturzentrum Wien; co-editor of Yasmeen Lari: Architecture for the Future (MIT Press)
"This is a call for a radically expanded agency in architectural practice—one that must come from acknowledging that the discipline's often downplayed ties to economic, political, and social paradigms have prevented access to supportive environments." -- Giovanna Borasi, Director, Canadian Centre for Architecture; editor of A Section of Now: Social Norms and Rituals as Sites for Architectural Intervention
"Dana Cuff's book rethinks the ethical ground of housing, public space, and infrastructure, providing the tools architects and urban designers need to spatialize social justice." -- Fonna Forman, Professor of Political Theory, University of California, San Diego, and Teddy Cruz, Professor of Public Culture and Urbanism, University of California, San Diego; authors of Spatializing Justice: Building Blocks and Socializing Architecture: Top-Down / Bottom-Up (MIT Press)