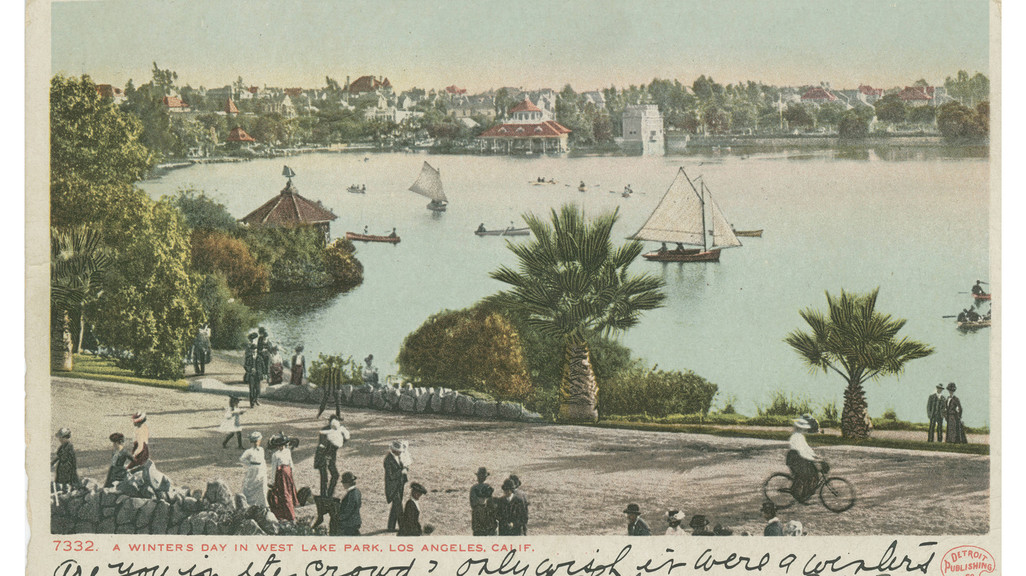 News
Faculty
Research
Mellon Foundation advances cityLAB-led "Markings" project with transformative grant
The Mellon Foundation has awarded a transformative grant to UCLA cityLAB and nonprofit organization Heart of Los Angeles (HOLA) to lead the collaborative project "MARKINGS: Inscribing Indigenous Immigrant Histories in Westlake," an effort to illuminate overlooked cultural histories of Los Angeles' Westlake neighborhood through public art and archives. By late 2026, "MARKINGS" will generate three interactive, public elements: a digital community archive in LA's Felipe de Neve Public Library, as well as a digital wall display housed in HOLA's Arts and Enrichment Center, and a public art installation in Westlake's Lafayette Park area.
"MARKINGS" is a cityLAB design research project led by principal investigators Gustavo Leclerc of UCLA Architecture and Urban Design, Maite Zubiaurre of UCLA European Languages and Transcultural Studies, and Tony Brown of HOLA, in collaboration with a team of researchers, community and Indigenous immigrant activists, and public officials. By focusing on culturally and linguistically diverse Indigenous immigrant groups, collaborators aim to elevate the Westlake neighborhood's present conditions and future potential through an understanding of its diverse history, and to deepen awareness of the Indigenous immigrant experience more broadly.
The Mellon Foundation awarded "MARKINGS" with a total of $2.7 million in institutional support. The project has roots in cityLAB's previous research on immigrant communities in Westlake that started in 2019. In particular, it expands upon Leclerc's 2020 project "Making Home: Immigrant Indigenous Stories in Westlake" for UCLA's Chancellor's Art Initiative. Formal collaboration between cityLAB, HOLA, and the Los Angeles Public Library (LAPL) to anchor these stories with a physical representation in Lafayette Park began in 2021 with the National Endowment for the Humanities-funded "Reflections in Lafayette Park: Reimagining an Urban Oasis."
"MARKINGS" will begin with one year of community outreach and research, including the formation of an Indigenous-immigrant advisory team and other collaborators. Working closely with Indigenous Immigrant Organizations, and LAPL, HOLA, and cityLAB investigators will start by building relationships with families and individuals throughout Westlake, focused on gathering intergenerational family stories and building a holistic narrative of the neighborhood's formation.
The team will then shape its public design and story-telling strategy, translating oral and written histories into a variety of languages and, and building on HOLA's robust history of creative placemaking through public art, will collaborate with local artists and designers to design the project's physical public displays.
Collaborators expect "MARKINGS" to open to the public in 2026. They hope that "MARKINGS" will serve as a pilot project, expanding similar public-history efforts to other LA and Southern California neighborhoods with significant Indigenous immigrant communities.
cityLAB and HOLA will collaborate on project coordination, with cityLAB leading research efforts and a multidisciplinary research team of AUD faculty and graduate student researchers taking on various roles. (See below for a complete roster of the "MARKINGS" leadership and research team.) cityLAB researchers gravitated toward the Westlake/Pico Union neighborhood due to its concentration of immigrant families, as well as the ways in which the Indigenous immigrant experience has transformed the region; Los Angeles has the largest Indigenous immigrant community in the United States, and the Westlake neighborhood is the most culturally and linguistically diverse enclave in the city.
"Westlake has become a safe haven to forge a new sense of community and a place to renew the cultural identity and traditions of Indigenous migrant people," researchers observe. "Their rich tapestry of the various cultural practices is deeply woven into the fabric of the community, but factors like language, documentation status, trauma, and policing keep the stories of Indigenous immigrants outside public awareness."
"For 34 years, Heart of Los Angeles's central campus has been blessed to help remove barriers and provide equitable access to quality programs and services for thousands of Indigenous children," observes Tony Brown, CEO of HOLA. "Being able to partner with Indigenous groups from the Westlake area, UCLA cityLAB, and the LA Public Library to digitally inscribe Indigenous immigrant narratives feels so important, particularly at this time of generational and economic shifts throughout this historic and culturally rich community. We are honored to help create a welcoming space and with extraordinary community partners, humbly share in the leadership of this project."
The Mellon Foundation honor comes via Mellon's Humanities in Place and Public Knowledge programs. The Foundation describes Humanities in Place as an effort "to support a diverse collection of bold, innovative organizations and places that are rethinking past practice and creating visionary new approaches for how to collectively understand, uplift, and celebrate more complete stories about who we are as a nation—both within distinct communities and as a broader society."
"MARKINGS" is led by cityLAB's Gustavo Leclerc and Maite Zubiaurre (UCLA European Languages and Transcultural Studies & Spanish and Portuguese) and Tony Brown (Heart of Los Angeles) as Principal Investigators, with Dana Cuff (cityLAB/AUD), Michelle Caswell (UCLA Information Studies), Gaspar Rivera-Salgado (UCLA Labor Center), Nara Hernandez (Heart of Los Angeles), Odilia Romero and Aurora Pedro (CIELO-Comunidades Indigenas en Liderasgo), Sara Z. Mijares (Mundo Maya Foundation), Estanislao Maqueos (Maqueos Music Academy), and John Szabo and Eva Mitnick (Los Angeles Public Library).
About cityLAB-UCLA
cityLAB, founded in 2006, is a multidisciplinary center in UCLA's Architecture and Urban Design Department focused on leveraging design for spatial justice and to address contemporary urban concerns. Specifically, cityLAB explores the challenges facing the 21st century metropolis, expanding the possibilities for our cities to grow more equitably, livably, sustainably, and beautifully, with affordable housing at the center of its efforts. cityLAB's investigations comprise rigorous scholarship as well as practical implication, design and theory, and formal exploration of cultural and political consequence. The lab initiates its own projects related to four core initiatives: spatial justice, the postsuburban metropolis, rethinking green, and new infrastructures. For more information, visit https://citylab.ucla.edu/.
About Heart of Los Angeles (HOLA)
Heart of Los Angeles (HOLA) helps young people overcome barriers through exceptional, free, integrated programs and personalized guidance in a trusted, nurturing environment. HOLA was founded in 1989 and annually serves 3,000+ youth, ages 6-24, across Central and South Central Los Angeles through a comprehensive array of expanded learning opportunities including academic, arts, athletics, and wellness programs, all at no cost to the community. For more information, visit www.heartofla.org.
About The Andrew W. Mellon Foundation
The Andrew W. Mellon Foundation is the nation's largest supporter of the arts and humanities. Since 1969, the Foundation has been guided by its core belief that the humanities and arts are essential to human understanding. The Foundation believes that the arts and humanities are where we express our complex humanity, and that everyone deserves the beauty, transcendence, and freedom that can be found there. Through our grants, we seek to build just communities enriched by meaning and empowered by critical thinking, where ideas and imagination can thrive. Learn more at mellon.org.