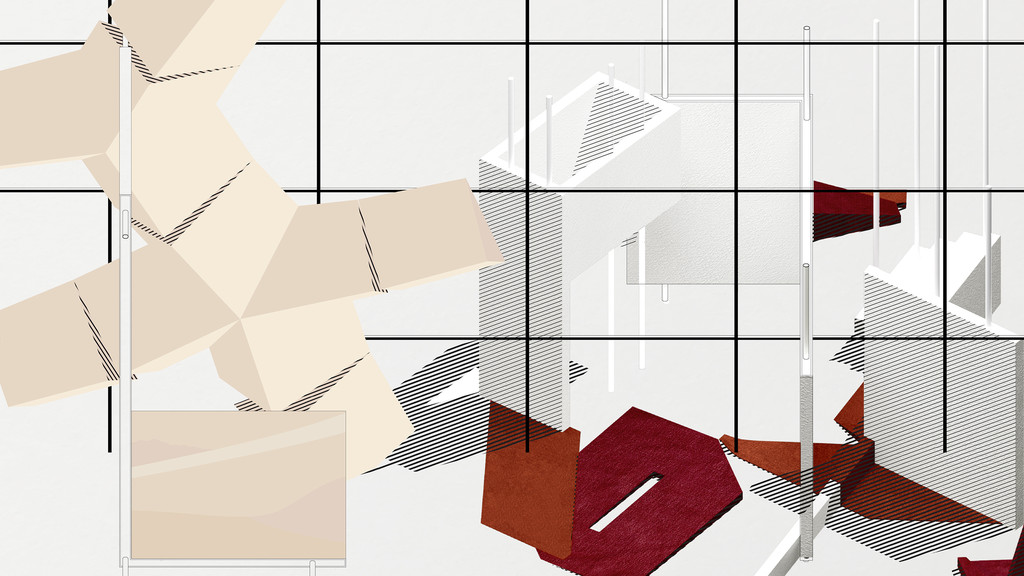 November 21, 2019, 6:30 PM – 8:30 PM
A joint exhibition from Katy Barkan and Gabriel Fries-Briggs around the theme of "Superposition."
Superposition spatializes an interest in simultaneity and overlap—both conceptual and material. The joint exhibition questions the threshold between architectural objecthood and its spatial corollaries, skirting a clear boundary between the production of things and the production of environments. Superposition, as a model of working, proposes the overlay of multiple categories of work and multiple authors allowing for category errors, transpositions, and irresoluble differences. Katy Barkan's installation reshuffles hierarchies of support and display, form and representation, ground and ornament, to unfold composite readings of space that don't strictly add up. Instead Homasote and carpet forms refract to amplify, distort, and undermine one another in unequal measure resulting in divergent architectural objects and alternative gestalts. In Gabriel's installation, a ductscape acts as a prosthetic device for the gallery's HVAC system. The reshuffling of conventional equipment inserts a vision of air as reflected landscape, amplifying the tempering and conditioning of the exhibition venue. The dune-as-duct considers the overhead site as a productive plenum for architectural positions.
Katy Barkan (@nownowherehere) is a Los Angeles based designer and a Lecturer at UCLA Architecture and Urban Design. Her office, Now Here, works to transgress the distinctions between buildings, objects, texts, drawings, and interiors, to imagine alternative engagements with architecture. Design Team: Katy Barkan, Sarah Caluag, Hannah Hortick, Sana Jahani, Casey Knudsen, Nick Miller.
Gabriel Fries-Briggs (@gabriel.f_b) is an architectural designer and Assistant Professor at the University of New Mexico School of Architecture and Planning. He is the director of Descriptive Services, an architectural practice exploring imaging culture, material processes, and contemporary techniques of description. Design Team: Gabriel Fries-Briggs, Aubrey Bauer, Phillip Brown, William Lyons
RSVP Now
The exhibition will be on view through December 13 in the Perloff Hall Gallery.
Don't miss the Gallery Talk with Katy Barkan, Gabriel Fries-Briggs and UCLA Architecture and Urban Design Acting Assistant Professor, Cristobal Amunategui on Thursday, November 21, at 7 PM.