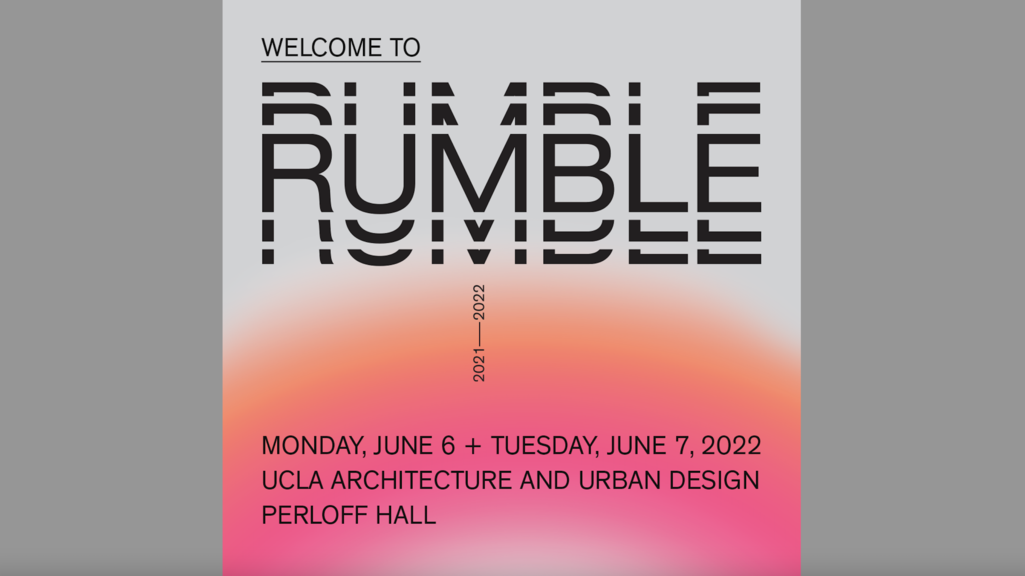 June 6 – June 7, 2022

Welcome to Rumble 2022, UCLA Architecture and Urban Design's (AUD) annual exhibition of student work. Now in its 14th installment, and the first in-person since 2019, Rumble transforms AUD's final reviews into an interactive installation and celebration, in which Perloff Hall becomes a stage and incubator for design dialogue and inquiry.
Rumble 2022 will be on view for the UCLA community on Monday, June 6 and Tuesday, June 7, 2022. Capacity for the general public is limited; please register via Eventbrite.
Marking the culmination of AUD's academic year, Rumble is a series of portals. Final reviews uniquely concentrate and frame the AUD community's design preoccupations, while also representing a threshold between present work and future opportunity for its students–especially those who are graduating.
The juxtaposition–physical and intellectual–of AUD's creative production frames the Department's broader interest in cross-pollination across disciplines, curiosities, and experiences. Across multiple events and platforms, faculty and students engage the broader architecture and urban design communities in conversations about the future of design and the built environment.
"Especially after an academic year in which we toggled between the virtual and the physical, the opportunity to situate ourselves and our work together in a setting like Rumble is charged with an inimitable momentum and productive anticipation," observes AUD Chair, Mariana Ibañez. "And perhaps that is one of the true gifts that Rumble offers: an opportunity to concentrate our visions and aspirations into an energetic couple of days, to take stock of what AUD is working on and where we may go next, and to celebrate our community in all of its diversity–with equal amounts of excitement and conviction that architecture and design play a crucial role in shaping the future."
UCLA is happy to welcome the general public to campus. For Rumble 2022, visitors who are NOT UCLA students, staff, or faculty must register via Eventbrite; capacity is limited. Visitors to UCLA are expected to abide by all guidance posted throughout campus and to comply with health and safety requirements, including wearing a well-fitting mask while indoors regardless of vaccination status. Any guest, student, or member of faculty or staff who is feeling ill or experiencing cold-like symptoms is asked to remain off campus. Please visit UCLA's Covid policy for full details on visiting campus.
RSVP Now