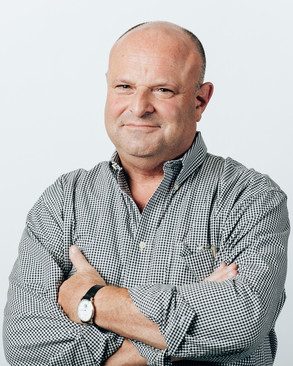 Roger Sherman
Adjunct Professor
Roger Sherman, FAIA is a Design Director leading in the Urban Impact Initiatives group at Gensler LA. Since joining Gensler, Mr. Sherman has won an AIA/CC Award for two new urban open riverfront parks in Wuhan, China; completed a new Infrastructure and urban development plan for northern Haiti; a digitally-driven signage and public space installation for the Sunset Strip; and a street furniture installation LA's Arts District. Currently he is at work on the first two of four permanent supportive housing (PSH) projects for Skid Row Housing Trust, pioneering the incorporation of pre-fabricated units, as well as a new home for the Downtown Womens' Center, and a "missing middle" affordable housing initiative for United Way of Greater Los Angeles. Sherman is also at work on the redesign of a Jewish camp in Malibu that perished in the Woolsey Fire; a new downtown campus for UCSD; and a master plan for the revitalization of the Rio Salado and surrounding properties in downtown Phoenix under the auspices of the John McCain Family Foundation.
Previously, Roger was the founder of Roger Sherman Architecture and Urban Design in Culver City. His work has been featured in Newsweek and Fast Company, and on CNN and The History Channel. It has also been exhibited at many prominent international venues, including the 2009, 2010 and 2016 Rotterdam and Venice (IT) Biennales (for the design of the new town of Providencia, in the Ecuadorian Amazon; Playa Rosa, a public/private community-based development in South LA; and Thinking Outside the Big Box, an urban infill cum community investment strategy for Target); and at the Victoria and Albert Museum (Flex-Deck-Spec House, 2007). Award-winning larger-scale urban planning work includes RePark, an end-use plan for FreshKills Landfill (Staten Island, NY); UP THE BLOC, the repurposing of a downtown LA parking structure; and Chia Mesa, the repurposing of a Scottsdale, AZ stripmall; and HYPO-PARK, a high density model of public recreation space for underserved communities in L.A.
Roger was from 2006-2015 Co-Director (with Dana Cuff) of cityLAB UCLA, an urban design thinktank at UCLA Architecture and Urban Design. He is an author of several books, including "LA Under the Influence: the Hidden Logic of Urban Property", "RE American Dream", and most recently, "Fast Forward Urbanism", with Dr. Cuff. Mr. Sherman serves on the Board of Zocalo Public Square, and is a past board member of AIA/LA; Livable Places, a non-profit affordable housing developer; and the Westside Urban Forum. He has taught and lectured widely, including at Harvard, Princeton, Michigan, UC Berkeley, New York's MoMA and TEDx.
Education
M.A., DI, Harvard University Graduate School of Design
B.A., University of Pennsylvania
| | |
| --- | --- |
| 2019 | Award, Westside Urban Forum (Vermont Manchester Affordable Housing/Mixed Use) |
| 2019 | Award, Westside Urban Forum (Placita del'Oro PSH/Mixed Use) |
| 2018 | AIACC Honor Award (Wuhan Riverfront Revitalization Plan) |
| 2015 | Award, Westside Urban Forum (Hypo-Park) |
| 2011 | AIA/NextLA Honor Award (Thinking Out of the Big Box) |
| 2010 | Honor Award, Southern California Development Forum (Playa Rosa) |
| 2007 | AIA/NextLA Award (Railyard Park, Santa Fe) |
| 2007 | AIA/NextLA Award (Gateway Park, Toledo) |
| 2004 | AIA LA Design Award (3-in-1 House, Santa Monica) |
| 2002 | Honor Award ("NextLA"), AIA/LA (RePark: Freshkills Landfill End Use Plan) |
| 1998 | Honor Award ("NextLA"), AIA/LA (North Hollywood Development Plan) |