The IDEAS campus is located near Culver City, approximately eight miles south of the main UCLA campus. The 15,000 square-foot facility includes a large studio environment, a Robotics Lab, a Virtual Reality and Augmented Reality Lab, and a Fabrication Shop with a wide range of traditional tools, as well as more specialized machinery like CNC routers, laser cutters and 3D printers.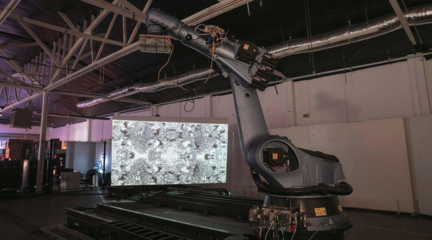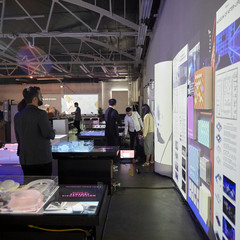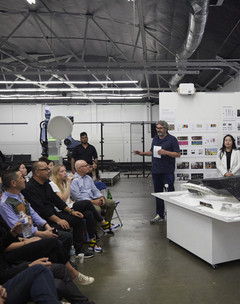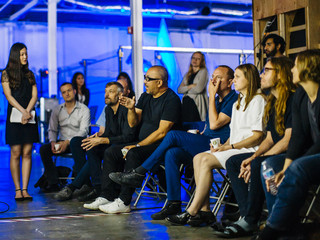 Robots at the IDEAS campus

Student exhibition

Final review of student work

Final review of student work
Our unique off-campus location accommodates two Kuka 6-axis articulating robotic arms – one of the most powerful and versatile tools available to students in the M.S.AUD program. Each arm is capable of lifting 150kg and is mounted on tracks to cover a work area of 10 x 5 meters. We also have two smaller 6-axis articulating robotic arms which are accurate to the sub-millimeter. The robots can be driven with a variety of software including RhinoCAM, Delcam, Maya, Grasshopper and Unity.
The Robotics Lab focuses on adaptability through simplified workflows, allowing for more creative freedom from the students and faculty. The robots can be used for a wide range of purposes, but in the past they have been utilized in projects for construction, fabrication, filming, and immersive digital experiences. With new real-time control integration (as opposed to pre-programmed path-making), the robots can be synchronized with additional sensors, media sources and other smart devices. This opens up a world of mixed-reality applications and is an exciting new area of research.
The Virtual Reality (VR) and Augmented Reality (AR) Lab offers many options for experimentation in the digital, physical, and cyber-physical realms. VR and AR are used across research topics to represent and design environments, as well as to simulate the assembly process. In fact, models and projects are tested here in three dimensions rather than using drawings or 2D data.
At the IDEAS campus, we develop and explore innovative workflows, exploring market-ready hardware, unexpected uses for VR and AR headsets (HTC Vive, Oculus, Magic Leap, Meta 2, etc.), spatial mapping hardware (Kinect, Intel Realsense, LIDAR), and computational devices (Arduino, Raspberry Pi, Intel Galileo). The lab also offers advanced resources for visualization, including high-end cameras, gimbals, projectors, and robotic mounts. It is designed to provide access to a wide range of devices for every possible creative use: filming, compositing, projection mapping, digital immersion, spatial psychology, and more.
The Fabrication Shop offers a wide range of traditional tools, as well as more specialized machinery like large-scale CNC routers, laser cutters and 3D printers. In addition to building architectural models, we have the capacity to build large-scale mockups and immersive environments. The Fabrication Shop is open 24/7 and specialized tools can be used under the guidance of the Shop Manager and student assistants. All students receive training at the beginning of the program and the Shop Manager also provides guidance and expertise on fabrication techniques.
UCLA Architecture and Urban Design provides a rich environment for specialized software development and design innovations. Our Print Lab is open to students 24/7 and provides access to regular and large-format high-resolution color plotters and laser-jet printers.
Bruin Online (BOL) is a collection of services provided by UCLA that includes centralized email services, wireless network connectivity, file sharing services, and access to many UCLA campus and library facilities. Students can access BOL with their UCLA Login ID.
In addition to the lecture series and other events on the UCLA campus, each year the IDEAS campus hosts a series of symposia or summits to publicize and share research on a particular topic. Invited participants give presentations and engage in meaningful discussions about the future of their fields and the roles they play in the evolution of architecture and the urban environment.