IDEAS Lecture Series
The IDEAS Lecture Series charts a dynamic new future for architecture by engaging speakers from a broad range of disciplines. The series looks beyond the field's traditional boundaries and explores topics arising from unexpected quarters-entertainment, automotive, aerospace, and tech industries - in order to explore rapidly emerging new technologies, possibilities for interdisciplinary growth, and the role of Los Angeles in the evolution of architecture. Past IDEAS Lectures can be viewed here
UCLA A.UD ANNOUNCES IDEAS LECTURE SERIES 2017-18
GRIDLOCK: A MOBILITY CHALLENGE SYMPOSIUM
Organized by Hodgetts SUPRASTUDIO
Saturday, November 18, 2017
3pm -6:3pm
Congestion – the fight for space, for land, for bandwidth, for opportunities, for resources – has become the hallmark of modern society. This is true on the freeway, on the internet, and in the competition for take-off and landing at major airports. Although various algorithms have been developed to manage these competing flows of information, people and vehicles, the pervasive overload of the systems we depend on are reaching a critical level.
GRIDLOCK: a mobility challenge symposium will generate a discourse between academic researchers and industry leaders to debate and share perspectives on how the advent of autonomous vehicles, new technologies, and other expanded modes of transportation will transform the way we live and move in urban environments.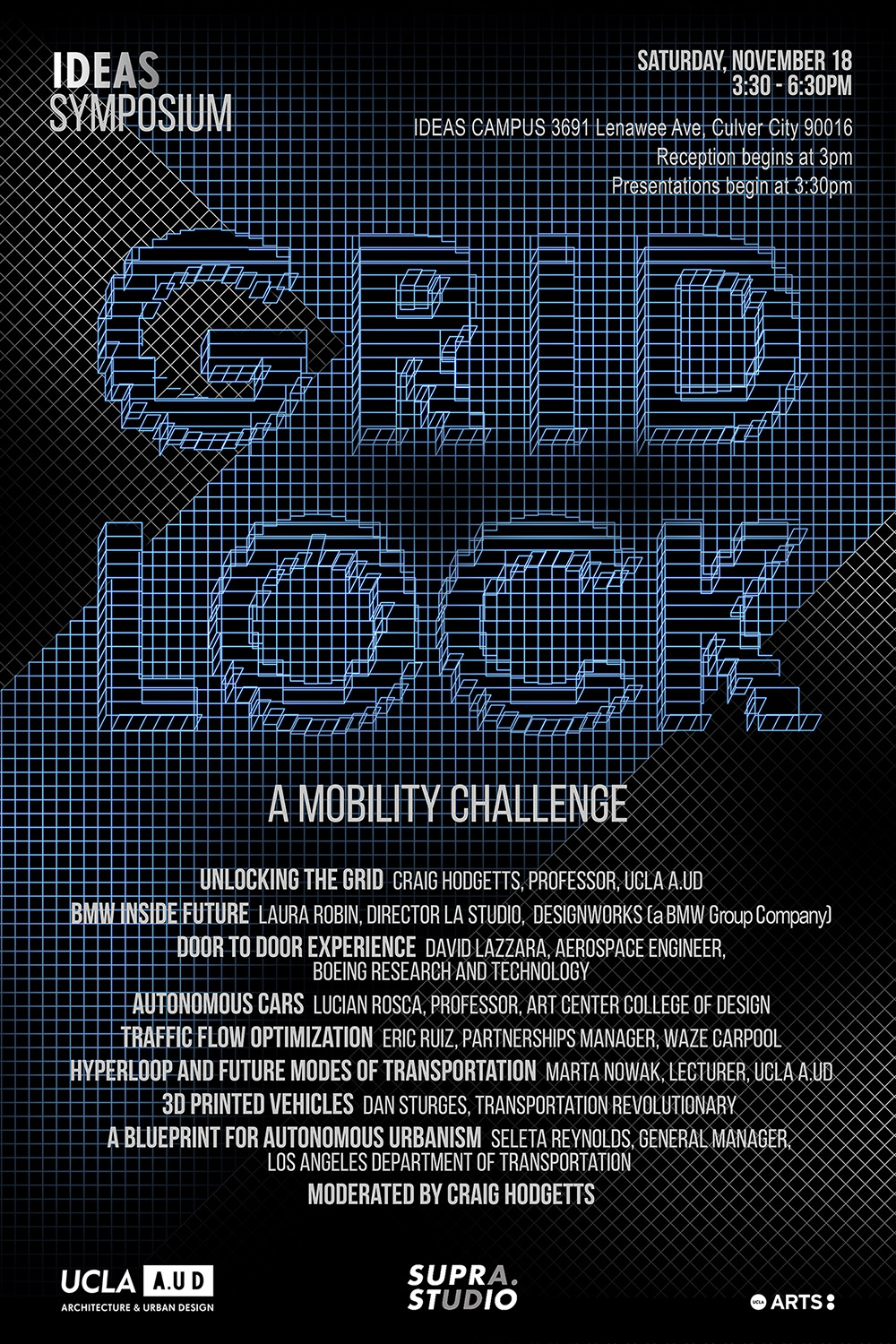 RECEPTION 3:00- 3:30pm
Complimentary appetizers and drinks will be served.
SYMPOSIUM 3:30 - 6:30pm
Unlocking the Grid Craig Hodgetts, Professor, UCLA A.UD
BMW Inside Future Laura Robin, Director LA studio, DesignWorks (a BMW Group Company)
Door to door experience David Lazzara, Aerospace Engineer, Boeing Research and Technology
Autonomous cars Lucian Rosca, Professor, Art Center College of Design
Traffic Flow optimization Eric Ruiz, Partnerships Manager, WAZE Carpool
Hyperloop and future modes of transportation Marta Nowak, Lecturer, UCLA A.UD
3D printed vehicles Dan Sturges, Transportation Revolutionary
A Blueprint for Autonomous Urbanism Seleta Reynolds, General Manager, Los Angeles Department of Transportation
Moderated by Craig Hodgetts
---
IDEAS LECTURE SERIES
The IDEAS Lecture Series charts a dynamic new future for architecture by engaging speakers from a broad range of disciplines. The series looks beyond the field's traditional boundaries and explores topics arising from unexpected quarters—entertainment, automotive, aerospace, and tech industries—in order to explore rapidly emerging new technologies, possibilities for interdisciplinary growth, and the role of Los Angeles in the evolution of architecture.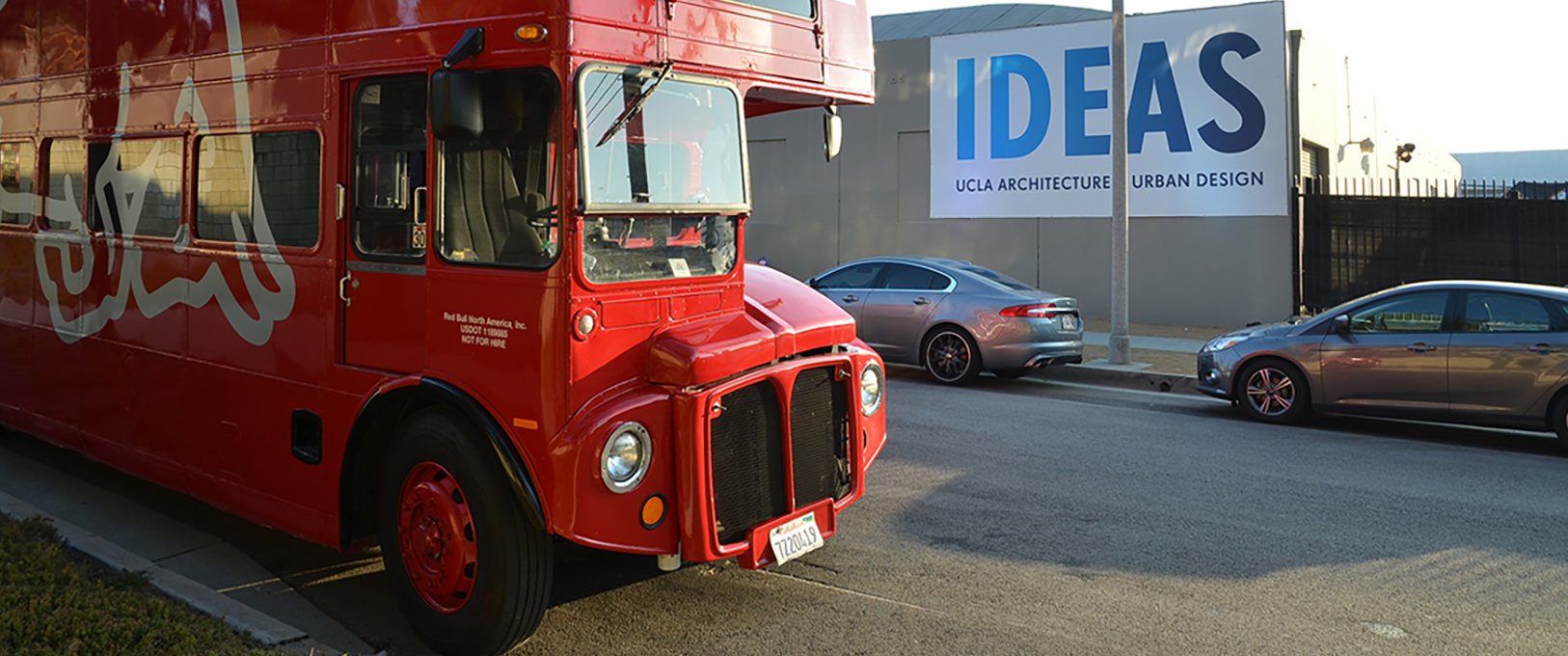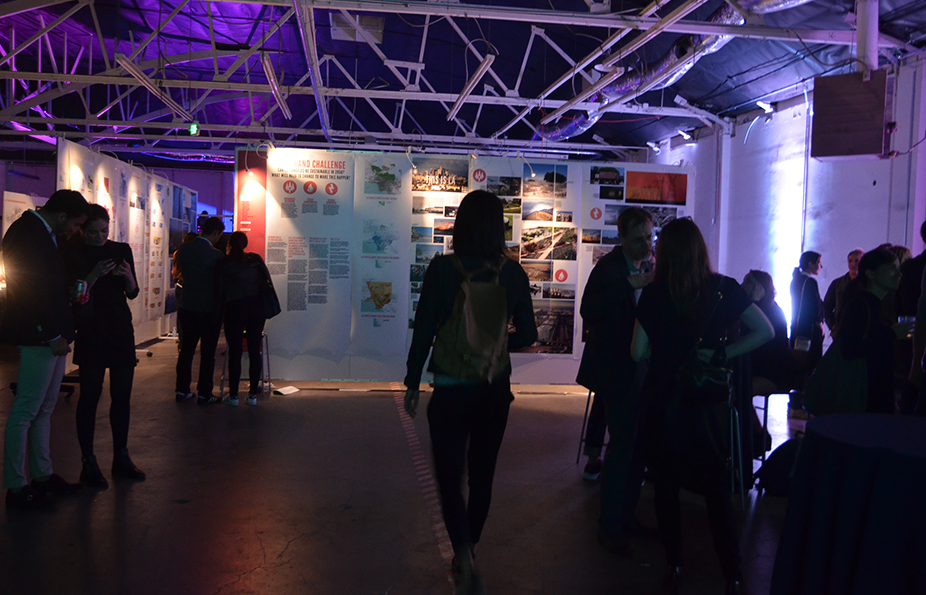 Seating is available on a first-come-first-served basis
Free Parking is available on site and on the streets nearby
Information: 310.409.1604
---
RSVP HERE
Join us on Facebook Live on Saturday, March 11 at 1:30pm

MACHINES OF LOVING GRACE:
A SYMPOSIUM ON AI, ARCHITECTURE AND VIRTUAL WORLDS

Popularly labeled as the 4th Industrial Revolution, the proliferation of artificial intelligence, robotics, automation and virtual reality is transforming the socioeconomic structure of our society and consequently revolutionizing the way we design and experience spaces. These emerging technological paradigms promise a heightened sense of interaction between humans and their environment. In these new scenarios, the software and hardware ecosystems are exceedingly gaining autonomy. Virtual worlds are no longer limited to be interfaces that merely enhance the physical environment but are becoming spaces in their own right; blurring the distinction between the physical and the digital in our constructed reality. The Symposium: Machines of Loving Grace expands the contemporary discussion on the evolution of human-machine society into the domain of architectural discourse.

Focusing on these new design ecosystems that shape our contemporary reality, the presenters will explore the particular themes of artificial intelligence, interaction design, and virtual/ augmented reality. Some of the main discussion points will include:

AI and intelligent environments

Interactive spaces and cyberphysical systems

Virtual worlds and architecture of interfaces

Robotics, autonomy, and automation

By engaging some of the greatest minds from the fields of art, architecture, philosophy, industrial design, literature and engineering, the symposium will theorize and situate a new agenda for the intersection of technology and the environments we occupy and socialize in; both digitally and physically.

---

Detailed schedule & presenters
Join us on Facebook Live on Saturday, March 11 at 1:30pm

1:00 PM-1:30 PM

Check in + Exhibition

1:30 PM- 1:55 PM
Welcome by Neil Denari, Interim Chair and Professor UCLA A.UD
Intro by Guvenc Ozel, Faculty UCLA Suprastudio


SESSION 1:

AI: Interfaces and Objects

1:55 PM- 2:20 PM

Nora Khan, Writer, Rhizome, Eyebeam

2:20 PM- 2:45 PM

Kenric McDowell, Senior UX Designer, Google Research, Art and Machine Intelligence

2:45 PM- 3:10 PM

Tim Wantland, Senior Interaction Designer, Google Research Machine Intelligence

3:10 PM- 3:30 PM
SESSION 1 PANEL DISCUSSION


SESSION 2:

Form, Data and Intelligence


3:30 PM- 3:55 PM
Jason Kelly Johnson, Design Principal, Future Cities Lab & Associate Professor, CCA San Francisco


3:55 PM- 4:20 PM
Casey Reas, Professor, UCLA Design Media Arts

4:20 PM- 4:45 PM

Nick Cote, Researcher, Applied Research & Innovation, Autodesk

4:45- 5:05
SESSION 2 PANEL DISCUSSION


SESSION 3:
Cyberphysical Systems: The Virtual and the Physical


5:05 PM- 5:30 PM
Benjamin Bratton, Professor, University of California, San Diego, Program Director, Strelka Institute of Media, Architecture and Design in Moscow


5:30 PM- 5:55 PM
Jose Sanchez, Assistant Professor University of Southern California, School of Architecture, Director at Plethora Project llc.


5:55 PM- 6:20 PM
Rebecca Allen, Professor, UCLA Design Media Arts


6:20 PM- 6:40 PM
SESSION 3 PANEL DISCUSSION

6:40 PM- 7:00 PM

ALL SPEAKERS, Audience Q&A

The Symposium is hosted by Ozel SUPRASTUDIO.

IDEAS Campus
3691 Lenawee Ave.
Los Angeles, CA 90016

View map here.
Free street parking is available


ideas@aud.ucla.edu
310.409.1604
Seating is available on a first-come-first-served basis.

Technology is synonymous with transformation. Not all transformations are equal. Microsoft HoloLens takes us beyond traditional technology paradigms. Being the first self-contained, holographic computer, HoloLens enables you to engage with your digital content and interact with holograms in the world around you. Let's explore the opportunity HoloLens affords. This is our time.
TUESDAY, NOVEMBER 15, 2016 AT the IDEAS CAMPUS
6:30 pm Happy hour - Free snacks and drinks will be served

7:30 pm Main program begins * please arrive at 7:15 pm

Michael Ebstyne
Principal Program Manager, HoloLens

Michael's 20 years in technology have taken him from the Silicon Valley to Microsoft's HoloLens team. For over three years he helped HoloLens come from concept to product and helped deliver it to the International Space Station. He has 11 patents in data analytics and mixed reality. His mission is to unleash the rock-star within individuals enabling them to achieve extraordinary dreams.
Microsoft has a mission to empower every person and organization on the planet to achieve more. Its ambitions are to reinvent productivity and business processes, build the intelligent cloud platform, and create more personal computing. Microsoft culture is defined by a growth mindset that is diverse, inclusive, and customer-obsessed.
UCLA A.UD IDEAS LECTURE SERIES 2015 ARCHIVE
WALT DISNEY IMAGINEERING: THE FUTURE OF THEME PARKS
TUESDAY, JANUARY 20, 2015
David Durham, Creative Designers Studio Lead / Blue Sky Program Lead
(please note video archive for this event is not available).
CITY OF LOS ANGELES: A CITY OF THE FUTURE
TUESDAY, FEBRUARY 3, 2015
Peter Marx, Chief Innovation Technology Officer
BMW U.S. OLYMPIC BOBSLED: SPEEDING MUSCLES
TUESDAY, FEBRUARY 17, 2015
Michael V. Scully, Director, Creative Consulting
GE APPLIANCES: MICRO-LIVING
TUESDAY, MARCH 10, 2015
Lou Lenzi, Design Director
ARUP
TUESDAY, APRIL 1, 2015
Erin McConahey, Principal
Chris Luebkeman, Director for Global Foresight and Innovation
THE THIRD FLOOR: THE PAST, PRESENT AND FUTURE OF VISUALIZATION
TUESDAY, APRIL 14, 2015
Chris Edwards, CEO & Creative Director
AUTODESK: FUTURE OF MAKING BUILDINGS
TUESDAY, APRIL 28, 2015
Phil Bernstein, Vice President, Autodesk; Lecturer, Yale School of Architecture
VIRGIN GALACTIC: BUILDING THE EARTH'S FIRST SPACELINE
TUESDAY, MAY 12, 2015
Loretta Whitesides, Founder Astronaut
The IDEAS Lecture Series is generously supported by Paul and Herta Amir.
UCLA A.UD IDEAS LECTURE SERIES 2014 ARCHIVE
HYPERLOOP: TRANSFORMING TRANSPORTATION
WEDNESAY, JANUARY 15, 2014
Patricia Galloway, Co-Director, Hyperloop Transportation Technologies, Inc.
Marco Villa, Co-Director, Hyperloop Transportation Technologies, Inc.
(please note video archive for this event is not available).
BOT & DOLLY PRECISION AND MOVEMENT
TUESDAY, FEBRUARY 4, 2014
Tobias Kinnebrew, Director of Product Strategy
CIRQUE DU SOLEIL: CREATING ON A TIGHT WIRE
TUESDAY, MARCH 11, 2014
Welby Alditor, Director of Creation, Michael Jackson ONE
 and
Boris Verkhovsky, Director of Performance Design and Development

(please note video archive for this event is not available).

SPACEX: THE MARCH TO MARS
TUESDAY, APRIL 15, 2014
Brandon Pearce, Senior Director of avionics and hardware development SpaceX
(please note video archive for this event is not available).
YOUTUBE: CULTIVATING COMMUNITY
TUESDAY, MAY 13, 2014


Liam Collins, Head of YouTube Space LA

(please note video archive for this event is not available).
The Architecture and Urban Design IDEAS Lecture Series is generously supported by Paul and Herta Amir.